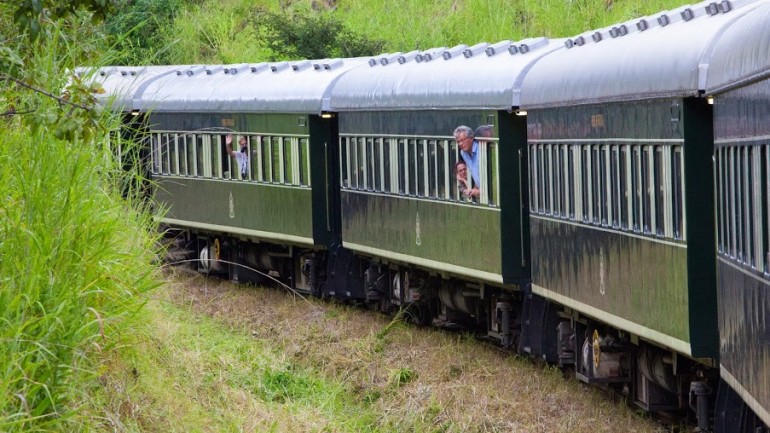 A Royal Letter
It's not every day we receive a royal letter and lovely feedback such as the below is always welcome by all here at Rovos Rail.
Dear Mr Vos,
Journey Cape Town to Dar es Salaam, 17thJanuary
My wife Cammy and I have just returned from Dar – having thankfully not availed ourselves of the rest of the Noble Caledonia tour, by boat. (I particularly dislike the sea; my overriding interest was in your train!)
I wanted to write to say how absolutely enthralled we both were in what you provide! I am not a "train buff" in that I could not tell you the gauges of the railway in Canada, Cambodia or Cameroon (as some of our fellow passengers could – and did), but I have always been fascinated by Edwardian travel details – from early limousines to showman's caravans and of course the wonderfully extravagant rail cars of American 19th century industry barons.
What you have done in creating the Pride of Africa train surpasses all and nothing short of amazing! There was no reason for me to look for fault, but if I had I could not have found it – the cabins were brilliant, the beds were exceptionally comfortable and including a shower room is quite extraordinary.
It was a total joy to sit watching Africa roll by – or perhaps more truthfully, given the state of some of the tracks, rumble by. How marvellous, in this age of safety and correctness, to be able to open the windows; how fantastic to sit on the observation deck – surely unique? My wife had never been to Africa and there can be few better ways to see it and none in such comfort. We loved every minute.
As for the service and friendliness – and efficiency – of your staff, it surpassed everything. From being greeted with champagne by the line of beautifully dressed hostesses and helpers (I persisted in calling it champagne on the basis that your South African wines are a match for any. And it is easier to say…) to the unexpected and clever touches of cold water when setting out and damp towels on dusty returns and we were looked after at breakfast, lunch and dinner. There were so many brilliant details.
We so appreciated being met in Cape Town by you, something commented on by several people, both on this trip and previous ones.
Eric Annandale, your train manager, was a star. He worked ceaselessly to overcome any operational obstacles. Craig Geater was wonderful – a great help in all matters – not only in the incredible luxury of having a hair stylist on board, but with information and organisation on trips as well.
The food was amazing, always unusual, always delicious and just the right amount. The South African wines were outstanding. The dining room and bar staff were brilliant and always ready to change menu in individual cases, willingly and efficiently. The dining car itself is superb.
Thank you too for the various splendid gifts that came with the tour – including a very fine tie and the magnificent Rovos tog bags!
All in all a most magnificent experience and one we are sure to share with our family and friends for many years.
Thank you and congratulations on your achievements.
Sincerely,
Lord Cranworth
If you would like information on our Dar es Salaam journey then please do not hesitate to contact Alicia on alicia@rovos.co.za
Photo credit: Jos Beltman from Icento Treinreizen in Holland.