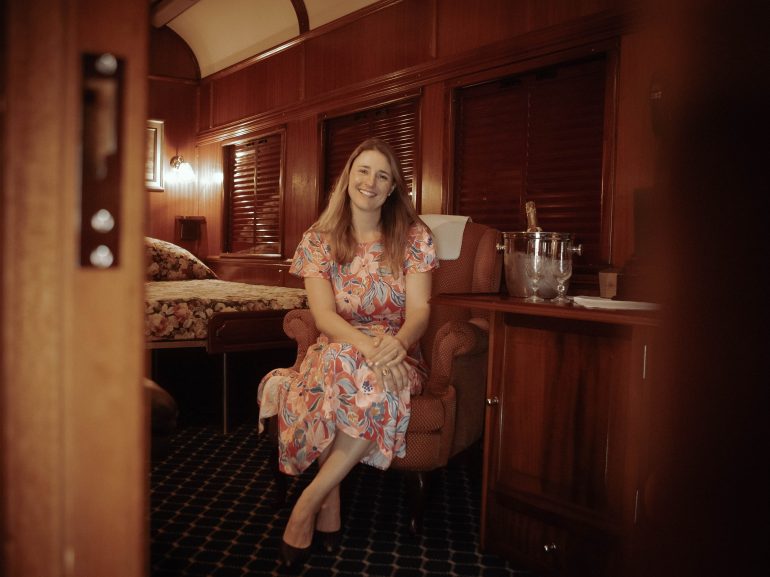 By Brenda Fitchet
There are four siblings in the Vos family, three of whom knew they could not and did not want to take over and be at the helm of the family's business when it was time. But the youngest, Tiffany, had the fire in her belly from the time she was born but knew that she needed to establish herself on her own merits before joining Rovos Rail. She has been at the company for five years now and there are many positive words used to describe her but the one that stands out the most is "unstoppable".
We were recently asked by one of our longtime Rovos Club members to describe 2023 in three words and it completely stumped us. The guest then asked us to "zoom in" because she wanted to know specifically what this year had been like for us, the staff.
The small group of employees to whom this question was posed sat pondering for a good while and after some time the consensus was: challenging, stunning and profound.
Challenging because we had to battle through another year with corrupt parastatals like Transnet and Eskom. Stunning because of lovely guests, beautiful views and successful train journeys. And lastly, and this one made us well up a bit, profound because of Rovos Rail's leadership.
It takes a special kind of chutzpa and a perfect blend of calm, intelligence and logic to keep all Rovos Rail staff feeling safe, confident and appreciated. And it also takes a resilient kind of patience to work with this eclectic, eccentric and passionate group of staff because as with all families, there are daily squabbles and everyone needs attention.
When you have a Chief Operations Officer who is all those things and who is also a wife and mother of two young children, it makes you start to believe that perhaps super humans do exist. The daily challenges and enormous emotional output that Rovos Rail demands would shatter many people, but our Wonder Woman takes it all her in her stride and rarely misses a step. So yes, she is unstoppable.
We haven't spoken too much about Tiffany Vos-Thane, our COO. Mostly because she doesn't like too much attention and also because 2023 seems to have gone by in the blink of an eye.
Tiffany is the youngest daughter of Rohan and Anthea Vos, CEO and owners of Rovos Rail Tours (Pty) Ltd. She was born with a spreadsheet in her hand and a determination to conquer whatever she set her mind to whether it was academics or playing for her provincial hockey team as a young girl or beginning her hospitality career in a tough and grey city like London.
Tiffany attended the International Hotel School in Cape Town and whilst still studying, worked as a trainee at the Victoria & Alfred Hotel at the Waterfront in the city. She graduated in 2006 and won herself a six-month internship with Starwood Hotels & Resorts working as a Sales Coordinator in New York.
On returning to Cape Town, she scooped up a position at Belmond Mount Nelson Hotel where she began as a Guest Services Agent before being promoted to Groups & Incentives Sales. But international adventure was calling and so was an Events Coordinator position at the Imperial College Business School in London. Tiffany moved to the United Kingdom in 2010 where she lived for over a decade.
After a short stint at the Business School, Tiffany returned to the Starwood Hotels & Resorts group and worked in the Events Sales team for Starwood Central London complex. Like Rohan, her father, sales was in her blood and she was determined to learn the skills it took to be an efficient executor of a lucrative sale. It only took a year for Tiffany to be promoted to an Account Executive where she focused on driving sales for the groups & events segment for Starwood Hotels London.
Two years later, she earned another promotion to Sales Manager for Business Travel where she focused on driving sales and revenue for the Corporate segment for Starwood Hotels in London. The hotels included the Park Tower Knightsbridge, Sheraton Park Lane Hotel, Le Méridien Piccadilly, W London – Leicester Square & Aloft London Excel.
Tiffany was in her Sales Manager position for a year before she was again promoted to Account Director of Business Travel where she managed the corporate segment for all Starwood Hotels in London.
If you've ever worked in London, you'll know how cutthroat the business travel sector is and how smart you have to work to have any kind of success. For Tiffany to have achieved what she did in five years is impressive and reiterates to us that not only did she have hospitality woven through her DNA, but that she could stand on her own, proving to herself and others that she was smart, unafraid of challenges and always willing to go the extra mile.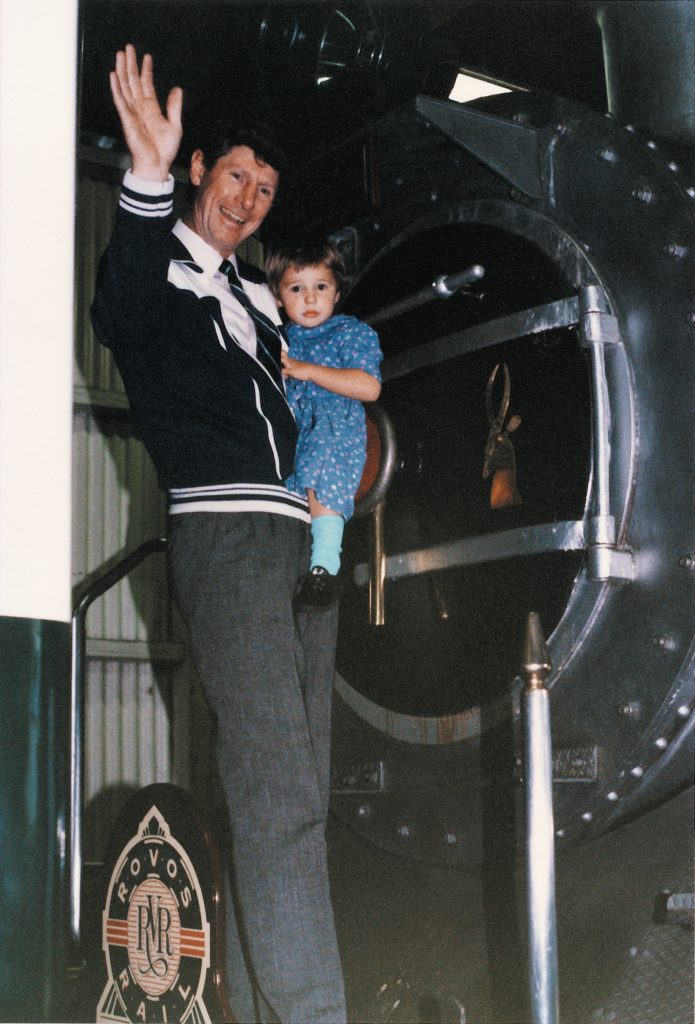 In amongst all this determined hard work, there was a great deal of personal travel which took her through Europe, including a magical Christmas spent in Iceland, extensive travel through the United States and a three-month adventure through South America.
In 2017, Tiffany earned a position as the Assistant Director of Sales for Business Travel for Marriott International but South Africa, family and Rovos Rail were calling her home. She felt it was time to create a space for herself within her family's business and to prove to herself and Rohan that she could be his second-in-command as well as instill confidence in the market about her leadership abilities. After all, Rovos Rail needed a succession plan and Tiffany, with her siblings in full support, knew she could do it.
After getting married in early 2017, Tiffany and her husband went back to London to pack up their lives before moving permanently back to South Africa. Tiffany joined Rovos Rail in an official capacity in 2018 and it quickly became apparent that she was well suited for a Chief Operations Officer position which was awarded to her in June of 2019.
In her first two years, she overhauled the entire food and beverage department, renovated the entrance to the station and began the long, painfully tedious task of implementing a new and integrated reservations system. In many ways, she brought operations into the 21st century – we can laugh about it now but goodness, some of the systems we had in place prior to her arrival were archaic!
Tiffany has spent countless hours with both Rohan and Anthea listening and learning. Rohan has spent a considerable amount of time explaining his thought processes regarding operations, the railway infrastructure and working alongside Transnet as well as other national railway authorities. It's an enormous and sometimes overwhelming side of the business but with time, Tiffany has started to navigate on her own with Rohan standing by should her decision-making process need to be revised or her course of action pivoted.
With Anthea, Tiffany has learned about the ordering of stock – anything from bed linen to glassware to amenities or to wine. Anthea has taken Tiffany with her to look at new fabrics for the upholstery on board the trains, passing on lessons learned from experience over the course of 35 years.
And then came the Covid-19 pandemic. Together with Rohan, Tiffany had to mindfully manage this crisis which essentially shut Rovos Rail down for two years. As it was for many people across the world, the pandemic was an incredibly challenging and devastating time and something we could not have navigated without Tiffany's calm communication and unwavering support.
In 2021, she gave birth to her daughter which was followed by the birth of her son in January 2023. Justin, Tiffany and the kids live in Cape Town with Tiffany commuting to Rovos Rail's headquarters in Pretoria every second week.
Tiffany now manages 17 departments across Rovos Rail which includes HR, Training, Finance, Procurement, F&B, Laundry, Upholstery, Locomotive Department, Workshops, Train Operations, Train Staff, Reservations, Sales & Marketing, IT, Security, Hardware, Health & Safety.
As for the future? Tiffany's main focus for 2024 will be staff training across all departments but specifically the train teams. There is so much that goes into working on the trains and because we have been so busy, she feels that we have fallen short in equipping these young staff members with the knowledge and confidence they need.
Rovos Rail also has a determined passion for sustainability and although enormous strides have been taken to be as earth-friendly as possible on board the trains, there is still more work to be done at Rovos Rail Station. Tiffany is determined to continue on with the "green" audit of each of the 17 departments she oversees in order to further minimize unnecessary waste.
As always, research into new and adventurous routes will continue be a priority because above all things, Rohan is a pioneer and with Tiffany having inherited his ambition and spirit for adventure, we are certain we will be bundu-bashing through different African countries for years to come.
Rohan and Tiffany will continue to work together for years to come as this "handover" is complex. Having already spent five years in training, it will be interesting to see what the next five will bring as there have already been so many efficient and positive changes made to our day-to-day operations. Father and daughter will undoubtedly continue to butt heads because they are both stubborn, confident and incredibly passionate about operating a successful business.
The future of Rovos Rail is in good hands, not only with Tiffany as its helm but also with a strong and experienced management team in place. Both Rohan and Tiffany are ensuring a smooth transition but if we're being honest, if you know Rohan, you know he is not going anywhere so our tall and lanky leader will be breaking boundaries for many years to come with his daughter watching and learning from the wings so that when the time is right, she is more than ready.