Rovos Rail and Mr Bubbles
South African sparkling wine and the name Pieter Ferreira, aka Mr Bubbles, are as synonymous as fish and chips, James Bond and a shaken martini and Rovos Rail and a world-class travel experience.
One of South Africa's fastest growing wine categories, Cap Classique is the South African version of champagne with the wine made by the same "traditional method" used by the French whereby the second fermentation occurs in the bottle.
Pieter – who proudly carries the moniker "Bubbles" and who is chairman of the Cap Classique Producers Association (CCPA) – is considered by many to be the godfather and the guru of the local industry which he has helped elevate on an international stage.
He has been instrumental in cementing Graham Beck as one of the world's leading producers of premium Cap Classique and has been with the estate since its maiden vintage in 1991. He recently became Graham Beck's Chief Operating Officer (COO) after 32 years in charge of the cellar.
However, a life in wine wasn't always on the cards for the ebullient Ferreira. The Durban born, self-confessed "surfer dude" loved science and also considered becoming a dentist.
However, rugby Springbok and South African wine pioneer Jan Boland Coetzee arranged for a young Pieter to work as an apprentice to Achim von Arnim at Clos Cabriere in Franschhoek. The rest, as they say, is history and Ferreira helped Von Arnim launch his Pierre Jourdan bubbly with Ferreira also working in Champagne: at Mumm in 1987 and at Moët & Chandon two years later.
Pieter and his wife Ann Ferreira started their boutique Cap Classique Pieter Ferreira label in 2012 with the first vintage released in 2019.
This new venture comes from their dogged pursuit of the perfect bubbly, striving to produce sparkling wine which showcases the very best expression of South African Chardonnay and Pinot Noir with their Blanc de Blancs, a 100% Pinot Noir Rosé and a blended Brut Vintage.
This 100% Chardonnay Cap Classique (Blanc de Blancs) 2015, currently being served by Rovos Rail, is sourced from carefully selected sites from the Robertson region, renowned for its rich limestone and weathered shale soils. The limestone content allows for an ideal platform for growing grapes with the acidic backbone and chemical composition required for the making of a perfect Cap Classique base wine.
A small portion of the base juice undergoes fermentation in French barrels. Once in bottle, it spent a minimum of 72 months on the lees.
Sip on a glass or two of the 2015 Pieter Ferreira Blanc de Blancs and you should pick up balanced flavours of citrus fruit and lime zest that are layered between notes of brioche and pastry combined with a vibrant mouth-feel with flavours of citrus, tropical fruits, honey and toast. It has a fine mousse and elegantly dry lingering finish.
Says Pieter, who happily admits that bubbles have consumed his life: "The beauty of Cap Classique is that it is uniquely South African. It will forever remain the better alternative for those who don't want to do Champagne. There is a great amount of respect for Champagne but with our great weather and sunshine we will also always provide great value. I still believe it is the most 'underrated' wine category in the wine world.
"We've developed a uniquely New World style while remaining true to the essence, technique and tradition of champagne itself. Bubbly or Cap Classique has become a lifestyle drink and is not only there for celebrations anymore. A great glass of bubbly sets the tone for 'what-ever-happens-next'! It is a great palate cleanser and makes for the best aperitif," he explains.
Pieter says that bubbles are the most versatile wine for food pairing: "There is no right or wrong anymore. Bubbles have the ability to play the 'enhancer'. My favourite pairings are Brut Blend – oysters on the rocks (anytime); Blanc de Blancs – fresh pan-seared fish with a beurre blanc sauce; Rosé – breast of duck (still moist and pink inside) with roasted vegetables and a matured Cap Classique– cheese board (mainly hard cheeses)."
We are so thrilled to welcome the Ferreira family to ours and look forward to serving this delicious bubbly on board our journeys.
2015 BLANC DE BLANCS ANAYLSIS
Alcohol: 12.59%vol; RS: 3.12g/l – Extra Brut; TA: 7.14g/l; pH: 3.17
ACCOLADES
2020 Platter's South African Wine Guide Newcomer Winery of the Year
Platter's 5-star for the current 2015 vintage
CE's rating: 95/100
"Without doubt, it's the best Cap Classique I've tasted to date" – wine writerAngela Lloyd, January 2021
"Both the Ferreira's are at the top of the sparkling pyramid" – Madeleine Stenwreth MW, January 2021
"This is categorically the best bottle-fermented sparkling wine I've ever drunk from South Africa" – Christian Eedes in Wine Magazine, April 2019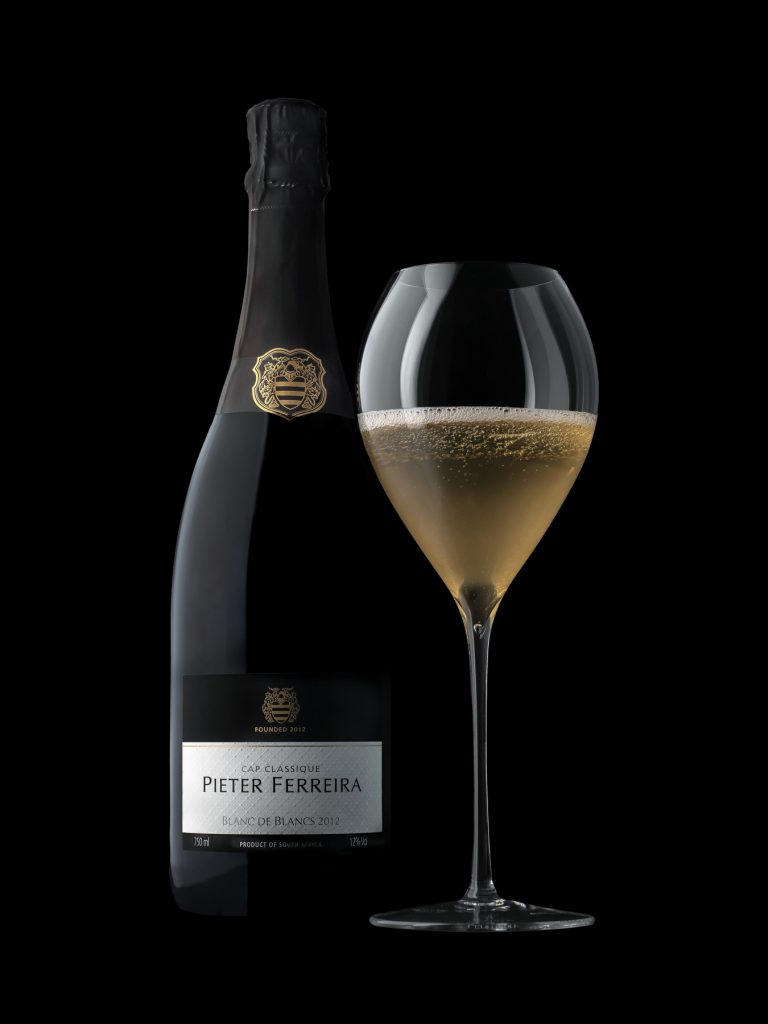 Please note that items on our wine list and bar menus are subject to availability and might not always be available on board.