The Traditional Arts and Crafts of Swaziland
The Kingdom of Swaziland is a small, land-locked country within South Africa known for its impressive traditional Swazi arts and crafts. Aside from the allure of colourful beadwork, baobab batik cloths and delicate glass figurines, Swaziland has a wealth of natural and cultural attractions worth exploring too.
When touring Swaziland it is expected that you'll find locals, both men and women, hand-crafting the loveliest woven baskets, soap figurines, jewellery and sculptures. Visitors can shop for these items either at shopping centres, established traders, or informal hawkers along the road. Swaziland's creative industry has grown significantly over the years as local Swazi artists have started gaining recognition for their traditional arts and crafts in ethnic boutiques across the world.
Art
The art of Swaziland is colourful and vibrant, with there having been a rise in the contemporary art scene lately. The Yebo Gallery, which is located in Mantenga, promises art enthusiasts an extraordinary discovery of Swazi art where local fine artists, photographers and sculptors have their masterpieces proudly on display. Yebo Gallery has contributed largely to the development of the art scene and in doing so, has provided a platform for artists to be discovered by international art buyers and private art collectors. The gallery also assists new artists to establish their name in the art industry. Support the local talent by buying yourself some beautiful and truly unique artwork to hang on your wall at home.
Batiks
Baobab Batik specialises in batik work that celebrates Swazi design, colour and culture. Baobab Batik started as a small business in 1991 but today has a workforce of 35 employees that consists mainly of women. Baobab batik believes in offering sustainable work opportunities to empower and uplift the local women of Swaziland.
Shopping at Baobab Batik is an exciting experience as there are plenty of beautiful handmade products from which to choose. Anything from cushions, to dresses, tablecloths, wall hangings and scarves all have potential to end up in your shopping basket. If you'd love to learn the process behind creating the batiks, then the Baobab Batik workshop near the Mlilwane Game Sanctuary is a must-visit.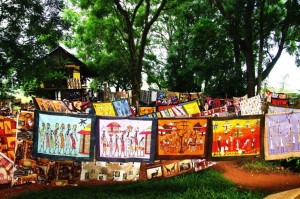 Sculptures and carvings
If you're looking for a tall wooden giraffe, or a hippopotamus carved from soapstone, then you'll be happy to know that Swaziland is renowned for their fine tradition of carving from both wood and stone. Wooden sculptures comprising ritual masks and religious figurines, which carry strong cultural significance, can be bought at craft markets, along with soapstone carvings. If you're purchasing from an informal trader, stand still a few minutes and observe how the stone carvers work from large blocks of soapstone, carving out larger-than-life animal and human sculptures. Watching the locals perform their incredible craftsmanship is an interesting learning experience, and anyone who has an appreciation for the preservation of tradition and culture will find this an enlightening encounter.
The only downside to soapstone is that it's heavy to transport, so consider purchasing one of the smaller figurines to take home with you.
Glass blowing
Perhaps the most notable in the entirety of Swaziland's art and craft scene is the Ngwenya Glass Factory. At Ngwenya, visitors are invited to watch the glass blowers hard at work creating anything from tableware to animal figurines, all created from 100% recycled soft drink glass bottles collected from across the country. Ngwenya and its artisans have garnered worldwide acclaim for their skilful production of delicate glassware, which they're now exporting overseas. Ngwenya was started by a Swedish Aid and began operations in 1979. Since then, it has trained and up-skilled many locals in the antique art of glassblowing. If you're unable to travel to Swaziland but would love to purchase Ngwenya's glass products, you can find a boutique at the V&A Waterfront in Cape Town, South Africa.
Ngwenya's product range includes glasses, bowls, candle holders, decanters, paper weights, perfume bottles, figurines, stoppers, vases and many more.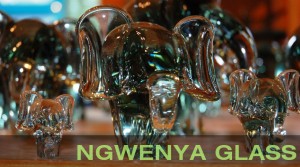 Grass weaving
Grass weaving is a delicate and precise process, an art that takes time to master. Grass baskets are one of the prettiest items to buy and fulfil many uses around the home – you can add a patterned and dyed basket woven from grass or sisal as the main centrepiece on your kitchen table. Tintsaba, near Piggs Peak and Gone Rural at Malandelas, are two of the enterprises that produce and export these exquisite wares. These two companies employ hundreds of woman for their weaving skills, and have subsequently contributed to the upliftment of local communities in the area.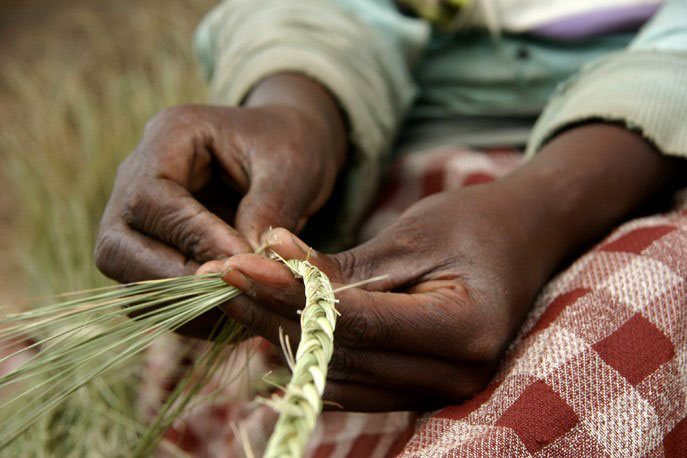 Jewellery
Traditional Swazi jewellery typically embodies beadwork in the form of bracelets, anklets and necklaces. The patterns, colours and motifs usually have cultural and/or religious significance. If it interests you, you can ask the seller to give you some background on the jewellery you're purchasing – they'll be able to tell you the story behind the colours and patterns used. You'll find many outlets in markets such as Manzini and Mbabane selling this beautiful beadwork jewellery.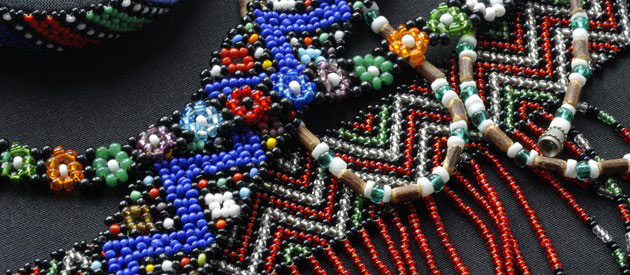 If you think you'd enjoy travelling to Swaziland for its fascinating arts and culture, then join Rovos for either the Golf Safari or African Golf Collage railway tour. Alternatively, you could consider the Good Hope and Southern Cross journeys aboard the Shongololo Express.