Rovos Rail welcomes The Green Man

With South African tourism opening up and slowly making its way back to a new normality, Rovos Rail is once again at the forefront of everyone's bucket list of travel adventure and experiences.
The private railway company has recently updated its wine and bar list to focus on some of the country's premier local wines and producers which it believes rival some of the best in the world. Peruse the exciting offerings and you would be hard-pressed to argue this.
Who wouldn't want to work their way through some wines featured on the carefully curated list while taking a scenic trip to Cape Town or raising a toast with a glass of bubbles, in their luxury suite, while travelling to the magnificent Victoria Falls? These are memorable experiences that will last a lifetime.
Each week we will take you on a journey through some of these acclaimed boutique producers whose wines you will discover on your next Rovos Rail tour. And don't forget Rovos Rail packages, rates and prices are fully inclusive of all meals and beverages on board, with suggested food and wine pairing recommendations given on all menus.
It was American novelist F. Scott Fitzgerald who said, "Too much of anything is bad but too much champagne is just right." So what better way to begin than with one of South Africa's finest bubblies, Silverthorn's Chardonnay Cap Classique, The Green Man. Just the act of popping open the bottle feels festive!
Silverthorn is an exclusive boutique winery situated in the Robertson Valley where John and Karen Loubser pour their heart and soul into producing some of the country's finest sparkling wines. Silverthorn is now among only a handful of South African producers who have devoted their expertise to solely producing this sophisticated style of wine.
The wines are made according to the traditional method (Méthode Champenoise) of making champagne by creating a second fermentation in the bottle. The term Cap Classique has been used in South Africa since 1992. EU law and the laws of most countries reserve the term "champagne" exclusively for wines that come from the Champagne region located about 160 kilometres east of Paris in France.
Before starting out his own label, John was the winemaker at Graham Beck where he discovered his passion for Cap Classique whilst working under the mentorship of acclaimed winemaker Pieter "Bubbles" Ferreira.
The multiple award-winning Green Man (the first vintage in 2004 was released in 2006) was born out of the Loubser family's love of nature and the environment surrounding them.
Explains John: "Half human, half nature, the Green Man is an ancient mythical figure representing the spirit of the forest, the continuous regeneration of life and the interdependence of all things. He has appeared throughout the ages from as far afield as ancient Babylon and India to abbeys and cathedrals all over Europe. In his modern guise, The Green Man has appeared under a new name – ecology. It is this spirit, as well as the delicate green hue of this wine, that inspired me to break with traditional name 'Blanc de Blancs' and personify the wine with the name The Green Man."
The farm has also honoured its very own "Green Man", longest-serving employee Willem Willemse, who oversees the Silverthorn vineyards. John and Karen commissioned Academy Award winning filmmaker Craig Foster, of My Octopus Teacher fame, who took images of Willem and superimposed them with pictures he had taken of nature. This series of mythical and dramatic artwork can now be viewed at Silverthorn.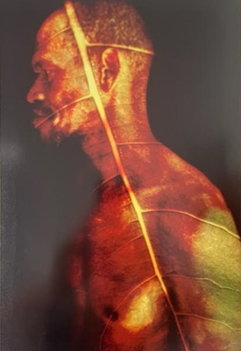 Continues Karen: "People from throughout the world seem to be taken with the Green Man; from our German agent sending us the most extraordinary Green Man sculpture for our Tasting Room opening to a customer from the UK bringing us the most gorgeous little ceramic Green Man when she visited."
The Green Man is 100 percent chardonnay which spends a minimum of 24 months on the lees. Limestone soils in the Robertson region give it an intense purity. On the nose you will find fresh aromas of green apple and mineral undertones with my favourite aged bubbly smell of all, baked brioche. This elegant bubbly has a delightful creamy texture with a fine mousse and a long finish. It is well suited as an aperitif on a warm summer's day or paired with an array of seafood; think freshly shucked oysters, salmon tartar or scallops lightly marinated in a zesty citrus dressing.
2019 THE GREEN MAN ANALYSIS
Alc – 11.64%; RS – 7.0g/l; pH – 3.2; TA – 6.2g/l
Please note that items on our wine list and bar menus are subject to availability and not always in stock and available on board.