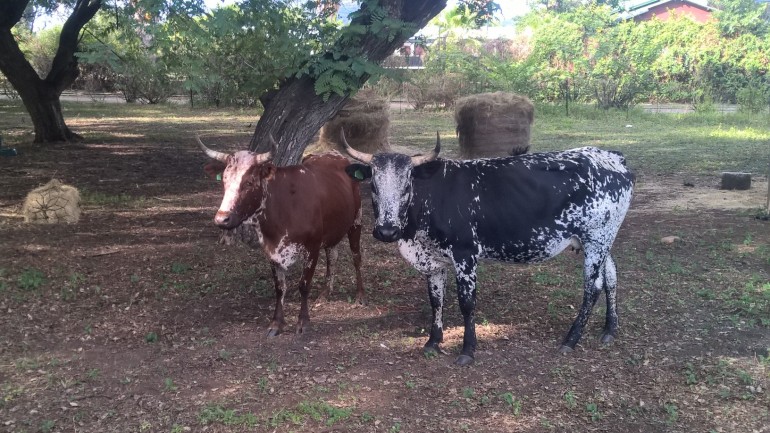 An Australian, his Bride and a Cow
We're back and have hit the ground running in 2016! If you had a break over December then we hope it was relaxing and lovely. Our first blog post of the new year is called "An Australian, his Bride and a Cow" and it makes for a romantic and funny story! But before we embark on this tale a little background on Rovos Rail and the Vos family.
We are owned by Rohan Vos and together with his wife, Anthea, they have four children – Shaun, Brenda, Bianca and Tiffany. The bride in our story is Bianca, daughter number two, and the Australian is her new husband, Brandon.
Brandon the Australian and Bianca the bride met a few years ago and for a while traversed many countries to be together. They finally set up home and shop in Cape Town armed with not one but five dogs and now a cow.
If any of you have met Rohan or listened to one of his departures speeches then you'll know two things: 1) He has a dry sense of humour and 2) he teases Australians and New Zealanders because of the long history of sporting rivalry between the three countries.
Bringing home an Australian could have gone either way but Rohan, after a while, started to see it as a great opportunity to practise his jokes and Brandon was the butt of all of them! The last big gag resulted in Rohan inheriting a cow. Over dinner one evening Rohan told Brandon about Lobolo, which is an African tradition in which a prospective husband or head of his family undertakes to give to the head of a prospective wife's family property in cash or kind. Historically, this property was in cattle but over time it has moved to being mostly in cash. 
Well, Brandon took this to heart and being the serious sort of chap he is, started researching Lobolo and what kind of cattle appropriate. "A man is seen to love his partner when he strives to save and pay for lobolo in the way of an Nguni Heifer". That decided it and he set about finding the top breeder of Nguni Heifer cows in South Africa.
A few days before Christmas Brandon put a call through to Brenda, daughter number one and his future sister-in-law, to tell her that a pregnant cow would be delivered to Rovos Rail Station in Pretoria and that she was lobolo for Bianca. Brenda works for the company and is based in Pretoria and once she had got over the initial shock (and looked around for candid cameras) she believed the story and started to prepare for delivery of one Nguni Heifer!
Mea Bella, meaning "my beautiful one" was safely delivered and is doing well. Being the social animals they are, Brenda brought in a friend for Mea, another Nguni Heifer (also pregnant) and her name is Camilla. The two roam around the property eating well and growing steadily. They have a visit from the vet every two weeks and the reports are always that they are healthy and happy. Their calves are due in early March so watch this space!
Top image: Left is Mea Bella and on the right, Camilla. Picture taken by Regárdo Lewis.