Women's Month: Daphne Mabala
Written by Linda Sparks
In celebration of Women's Month in August, Rovos Rail is honouring three of our amazing female staff members.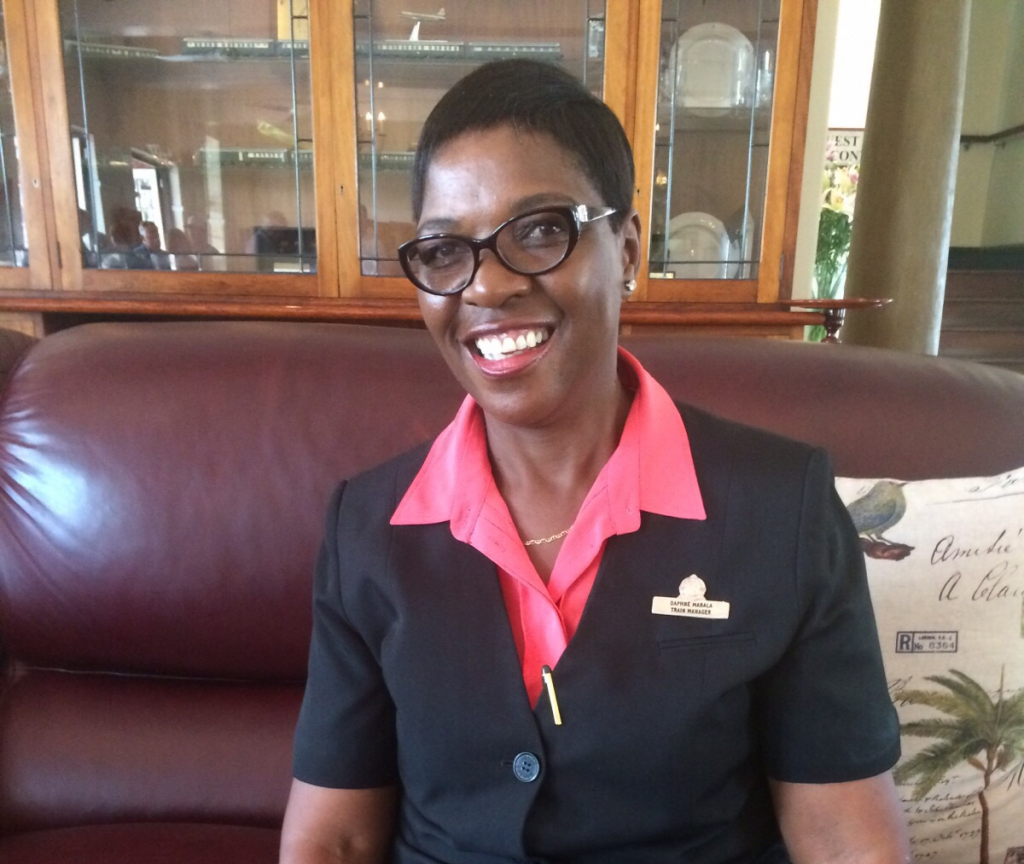 First up is Daphne Mabala, described by colleagues as "Superwoman" who is one of six of Rovos Rail's hard working and passionate train managers.
It's a fitting month to pay tribute to Daphne as August also marks her 30-year anniversary of employment with Rovos Rail – a testament to her job satisfaction and loyalty to the Rovos family.
After qualifying with a Diploma in Hotel Management, Daphne began her career with Rovos Rail in 1993 working as a waitress at the Victoria Hotel in Pretoria which was then on lease to Rovos Rail as their dedicated overnight offering for passengers.
In 2000 Daphne's application for a train position as a hostess was successful and she has remained on the trains ever since. She worked through the ranks of admin and deputy manager before progressing to the challenging role of train manager in 2008.
When asked what she likes about her job Daphne responded that she doesn't like her job she loves it!
She liked her role of welcoming guests into her home and ensuring that all aspects of hosting them is done correctly and in a professional way.
The role of train manager on Rovos Rail is a demanding one, being on call 24/7, and it requires a diverse range of skills and experience. This includes overseeing the staff on board, interacting with guests, and ensuring that all their needs are met, being proactive to prevent problems occurring, and dealing with the multiple technical and logistical challenges that come with travelling across countries and dealing with different railways around southern Africa.
As a train manager Daphne ensures that she is always one step ahead, she makes it her mission to get to know all of her staff in order to lead and support them well. She places a high value on education in all aspects of hospitality to ensure that she and her staff are able to deliver service excellence. This requires keeping abreast with international and local travel developments, being up to date with bar and culinary trends, and having a good knowledge of guests' cultures and countries.
This ethos sees Daphne doing research before guests arrive in order to understand their nationalities, customs, likes and dislikes. Meeting and interacting with people from around the world is one of the highlights of her job, she enjoys learning about other countries and how people live.
As a manager of Rovos Rail trains it's necessary to think out of the box and to be able to make an alternative plan when things don't turn out as expected. Just one example of the many quick solutions that Daphne has had to find was when a trip had to be improvised due to a train derailment that obstructed the journey. Passengers were offered a variety of alternative options, one of them being to remain on the train waiting for the track to re-open, and this turned out to be a bonus for guests who ended up getting additional nights on the train that they hadn't expected.
In response to my asking her to list three words that she feels describe her, Daphne came up with "ambitious," "professional" and "organised".
Her ambition is clearly evident in how far she has come from humble beginnings in a 4-roomed house in a township near Polokwane. Daphne always wanted to succeed in her career, and it is because she enjoys working with people that she chose to pursue a career in hospitality, she realised that succeeding in life is not based on a person's background but rather hard work and determination.
One of the hallmarks of Rovos Rail is the attention to detail that is applied to every aspect of the company. This is something that Daphne is proud to have learnt from Rohan Vos himself when he was hands on in running the trains.
Daphne loves travelling across Africa and visiting different destinations which all have their own beauty and appeal. One of her favourites is the Namibia Safari due its remoteness and the unique landscape of the sand dunes.
Daphne's achievements in successfully managing Rovos Rail trains for the past 15 years have taught her the importance of hard work, making sacrifices in order to get results and that it is possible to start at the bottom and grow from there.
When she's not working Daphne likes to spend her holidays visiting family and pursuing her hobbies of hiking, swimming, reading, and researching. One of her future goals is to eventually own a safe place to accommodate the elderly and disabled.
Daphne's passion for her work and her pride for Rovos Rail is palpable. Guests travelling on a train with Daphne at the helm are privileged to be taken care of by someone who clearly gives her job her all whilst most importantly loving doing it.