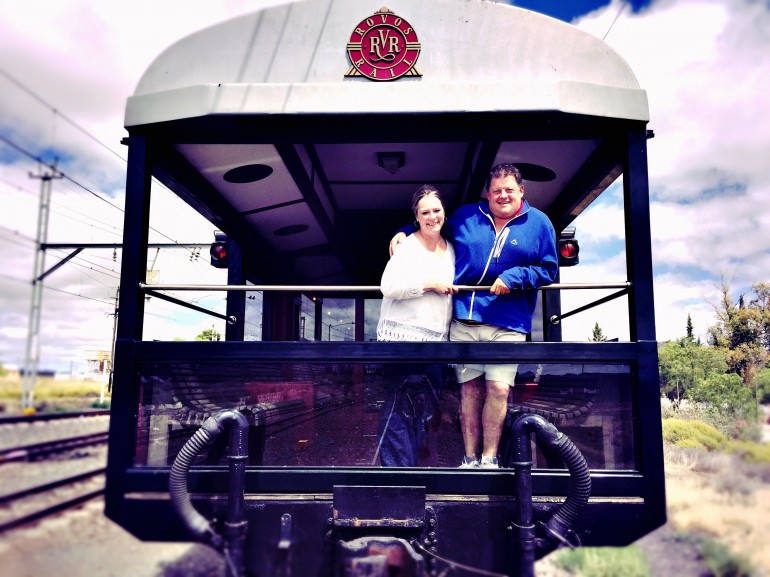 A Surprise 50th Birthday!
A surprise 50th birthday. Five envelopes. An elated husband and an even happier wife! All the ingredients that make for a wonderful half century celebration.
For many, a train journey with us is a bucket list item so when Natasja Rabe decided to surprise her husband, Jaco, with this gift she not only made a dream trip come true but she also did it in the most cunning of ways!
On the Thursday before the train's departure Natasja asked Jaco to pack his bags as she was taking him on a little holiday. He had no idea what was going on but was given an envelope telling him to pack for two nights and that he would have to include a dinner jacket and tie. Sneaky!
The following morning, the couple rose at the horrific hour of 3am to prepare for their trip and Jaco was given a second envelope to say that a luxury car would be collecting them shortly which would be transferring them to the airport. On arrival a third envelope was handed over revealing that the aircraft would be carrying them to Johannesburg.
When landing at OR Tambo International, the fourth envelope revealed that a trip on the Gautrain would be following next. "This is when I started to feel really excited. Confused but very excited", says Jaco. "I kept thinking that my wife was out of her mind but I played along because I knew she would have planned something really special".
The Gautrain stop was Pretoria Main Station where the fifth and final envelope was handed over revealing that they would shortly be arriving at Rovos Rail Station to board the train for the luxurious train journey to Cape Town "I knew it would be good but I had no idea it would be this good! I was over the moon as a trip on Rovos is something I've wanted to do for a very long time"!
"Pulling into Rovos Rail Station was a sad moment because it meant our trip was over and we had to return to normal life. It was such a let down as our journey on the train was exceptional and we couldn't have asked for anything better", comments Natasja.
You are both welcome any time and Jaco, a very happy birthday from all of us at Rovos Rail!