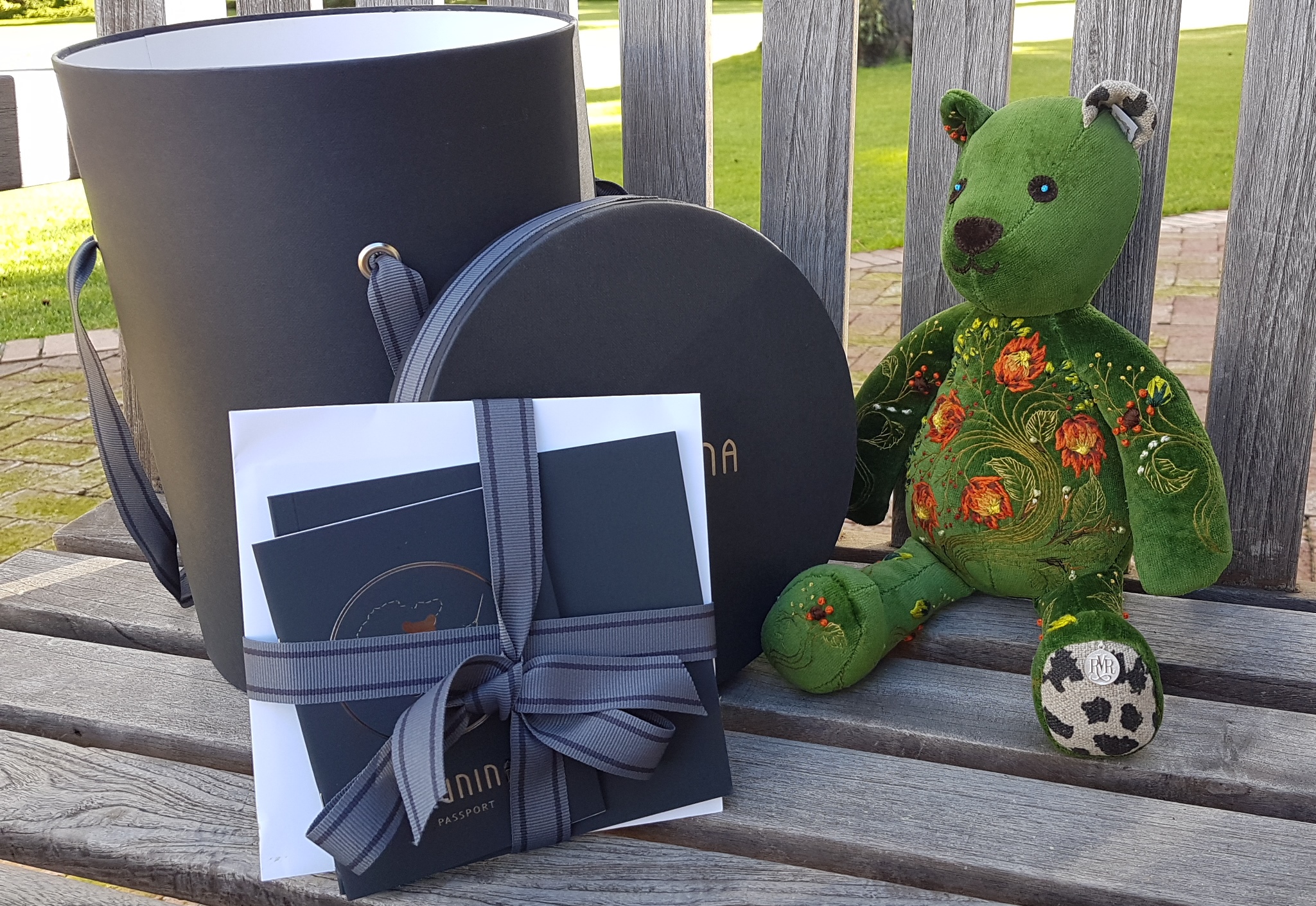 The tale of our Rovos Rail teddies began 19 years ago with our journey finding us in the capable and talented hands of Taunina.
On an early Dar es Salaam trip we had two delightful Australian ladies, Dawn and Annike, who travelled everywhere accompanied by teddies they collected the world over. At their suggestion, the Rovos collection of limited-edition teddies slowly evolved when, in 1998, Anthea met Bev Duncan who had a small barrow in the V&A Waterfront Shopping Centre full of her handmade teddies.
This chance encounter spanned a 17-year friendship with Bev painstakingly producing 20 collections (50 to a set) of customised, handmade Rovos teddies and 600 kiddies bears. Bev took great delight at the thought of her teddies living worldwide.
Very sadly, Bev developed a brain tumour in December 2013 and after a long, hard-fought battle we lost her in April 2015.
Anthea, deeply saddened by the loss of her friend, pressed pause on the creation and production of our teddies and it's only recently that Taunina have taken up the helm.
The Taunina story is one of great courage and compassion for the commerce lies intertwined with community upliftment. The company focuses on improving lives of disadvantaged people who operate in communities where opportunities may be limited but where creativity and passion are abundant.
"We provide our artists with the support and market access they need to make a living by using skills many of them learned at an early age. And we actively involve them, sharing in the success of the business. Artists receive a steady income (vs. piece rate pay) in the form of wages that are significantly higher than market-related salaries. In addition, they will receive 30% of the before-tax profits of the company: 20% through the Bear Essentials Fund (which contributes towards the housing, healthcare and education of their families) and 10% in the form of productivity-related cash bonus payments."
To date, Taunina have created 10 bespoke teddies for us each in the Rovos green, old gold and maroon in keeping with our corporate colours and each with a paw pad and ear in leopard print. The other paw pad carries with it a little Rovos Rail charm. Our first three bears went out on the Dar es Salaam train in August last year with Thebolo, Munaki and Nyenyedzi finding homes in Germany!
All the teddies carry the initials of the women who make them, symbolic of their sense of dignity and pride. Each bear travels in a handcrafted hatbox with his or her very own bespoke passport. A Taunina creation is a work of art, an heirloom to be passed from one generation to the next. It's a gift that changes lives.
"The name Taunina is an anagram of the African word 'TAU', meaning 'lion', and 'NINA', an acronym for 'No Income, No Assets'. Taunina gives women who were once without income and assets the power to become lions of their own destinies."
We're proud of our association with this fantastic company and are encouraged and inspired by their story. For many, living in South Africa simply means surviving so for women to stare such adversity in the face and create gorgeous teddies that live across the world is just remarkable.
Click here to watch the Taunina video.