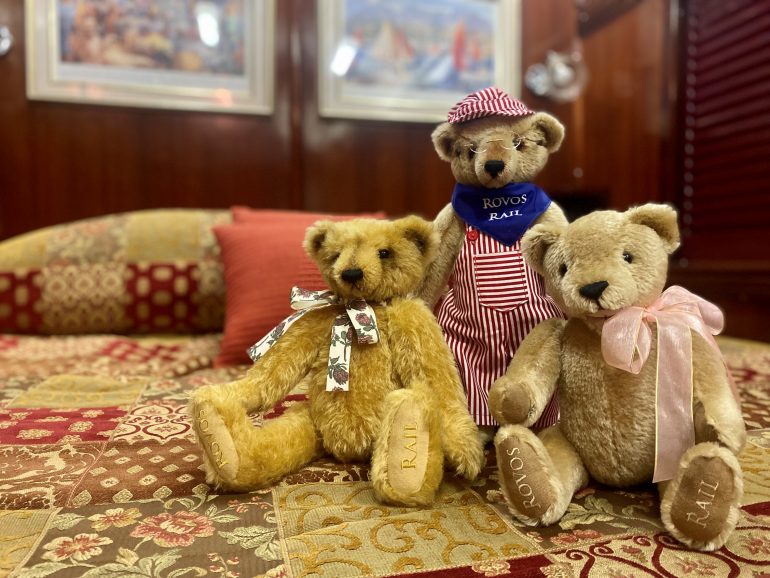 Travelling Teddy Bears
By Linda Sparks
We had no idea that our travelling teddy bears would draw such a crowd or that the travelling teddy bear "scene" had the sweet and very dedicated fanbase that it does.
I had a delightful chat with Sonja Peters from HiBearNation to get some insight into the heart-warming story behind the travelling teddy bears.
Max, an 80cm tall beautiful Steiff teddy bear seated beside Sonja joined us for part of the interview!
The Rovos limited-edition teddy bears came into being 25 years ago, and these adorable collectors' items have been available for sale to guests ever since, in either the train gift shop or at the Rovos Rail Station.
Bev Duncan was the original creator of the Rovos teddy bears after Anthea Vos discovered her work in a small barrow at Cape Town's V&A Waterfront. A 17-year friendship transpired in which time Bev produced 20 collections of 50 customised, handmade Rovos teddies as well as 600 kiddies' bears. Very sadly, Bev took ill and passed away in 2015, Sonja and her husband Björn took over production the following year.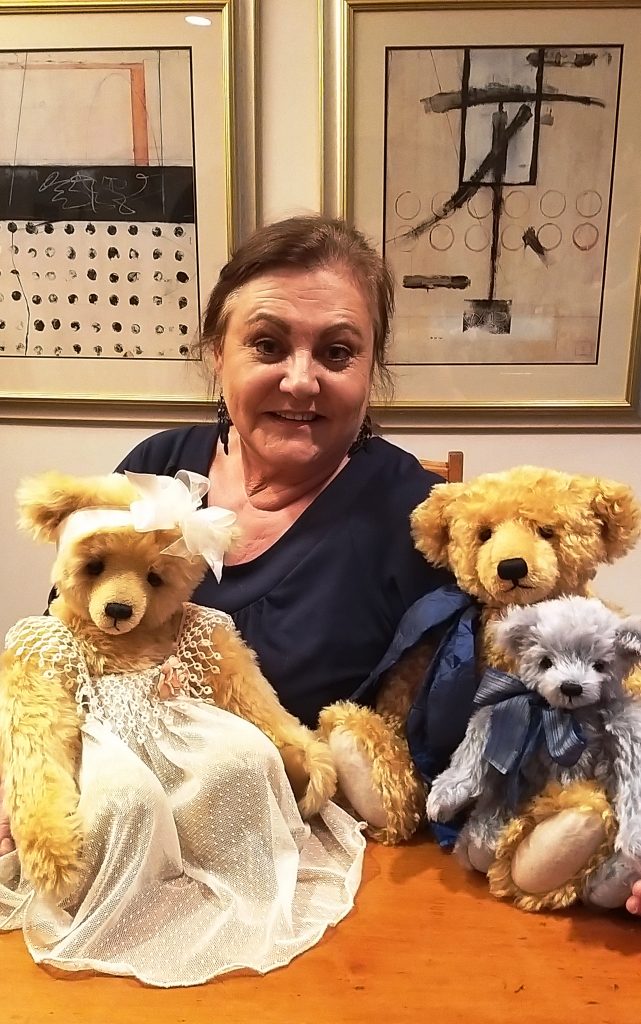 Sonja's love for teddy bears was sparked on a visit to a character filled teddy bear shop in Knysna over 20 years ago. Soon after she attended a Teddy Bear Fair at Buitenverwachting, a Cape Town wine farm, where she purchased another special bear to add to her collection. Wanting a partner for this bear and being unable to find anything suitable, Sonja decided to create one herself.
Little did she realise that this would mark the beginning of a rewarding and successful teddy bear business which has seen her lovingly made creations find homes across the globe.
Sonja's first big step (and leap of faith!) in this venture was her attendance as an exhibitor at the same Teddy Bear Fair that had inspired her first creation. With over 100 of her own handmade bears of different shapes and sizes the fair turned out to be a great success for Sonja and it was here that she met Anthea Vos and her association with Rovos Rail began.
In keeping with Rovos Rail's reputation for luxury and excellence, Sonja's bears are all handmade with the best workmanship and the finest quality materials. The use of natural substances is a priority, and this includes mohair, cotton, seed paper and recycled matter. Attention to detail is paramount with each bear having embroidered footpads, double stitched seams and the cutest miniature accessories from binoculars and spectacles to pocket watches and covered buttons, all handmade locally or sourced and imported from abroad. The intricate items of clothing that adorn each bear are painstakingly designed and made by Sonja.
Mohair is the perfect fibre for the Rovos teddy bears – often called the "noble fibre" or the "diamond fibre" – it is soft, durable, luxurious, and warm to the touch and the mohair story is a fascinating one in itself. A product of the Angora goat originating in Asia and imported to South Africa in the mid-19th century, there were over four million Angora goats in South Africa by the early 20th century and we are currently the largest producer of mohair in the world. The South African Responsible Mohair Standard ensures best practice of farmers including both land management and respect for the goats.
Sonja receives the mohair in large rolls, and after stencilling the pattern pieces on the back of the fur the pieces are cut with small scissors one-by-one by hand and then each pattern piece is sealed around the edges to prevent fraying – no mean feat considering that each bear has an average of 23 pieces! The pieces are then pinned together, and each seam is double stitched with a sewing machine. Once sewn together the pieces are kept separately in what Sonja calls her "incubator" before each bear is jointed and stuffed. After the stuffing process every opening on every arm, leg and body is closed by hand with ladder stitching. All Rovos Rail bears are branded with their embroidered suede footpads, which are cut out and sewn into the leg pieces. The teddies are jointed with a selection of wooden discs and nuts, bolts and washers which allow their arms, legs, and head to move.
The aspect of her work that Sonja enjoys the most is when she gets her creative juices flowing in the idea and design stage of creating new pieces. Much research and planning goes into the conception and production of each bear, followed by the sourcing of materials and finishes to make her ideas come to life.
An exciting step in the process for Sonja is when the bears get their eyes as that's when they come alive – she says it gives meaning to the saying that the eyes are the window to the soul!
Sonja has created 22 collections of 20 bears for Rovos Rail as well as 50 ShweShwe fabric bears for Shongololo Express. These sets include the popular Engineer (which has taken its inspiration from Rohan Vos!) and Golfer (with a miniature driver handmade by Björn), to teddy bears named after Vos family members all personalised to each one of them.
One of the most popular Rovos bears is the Safari bear with its sleeveless bush jacket and camouflage safari hat. Even the safari fabric was painted and printed by Sonja by hand to create a miniature camo pattern. Artist Manda Theart in Pretoria constructs the tiny camera and binoculars out of polymer clay which is baked in an oven.
Rovos Rail bear collectors can look forward to an enchanting new range of bears to be launched towards the end of this year, one of the new designs is a gorgeous Coal Stoker bear. A practical new touch now comes with every bear purchase – a hemp drawstring bag with the Rovos Rail crest, in which to keep the bear protected during travel.
Sonja's passion for her teddy bears is contagious, and her talents ranging from imaginative and artistic to resourceful and practical, are inspiring. Proud owners of a Rovos teddy bear can appreciate the time, love, thought and expertise that goes into creating these unique collectors' pieces. Those who are not yet Rovos bear owners will no doubt agree with the words of much-loved teddy bear Winnie the Pooh: "I know I don't need one, but I'd like one very, very much, please."
The Rovos limited-edition teddy bears are available for sale to guests, in either the train gift shop or at the Rovos Rail Station.