Rovos Rail and two beautiful Thelema wines
Never did a great man hate good wine …or an accountant named Gyles become an award-winning winemaker.
33 years on and at Rovos Rail we are still star struck by these two beautiful Thelema wines.
It's a story that reads like fiction. A hard-working articled clerk visits a bottle store in Kimberley and finds his life changed forever when he has a sip of Puligny-Montrachet from far away Burgundy.
It reminds of us of our beginnings. A hard-working businessman visits an auction hosted by the Heritage Railway Association of South Africa and his life changed forever. The story of how Rovos Rail and Thelema have not only succeeded but also persevered since the 1980's is one of relentless dedication, optimism and trust.
Our infamous Benedictine monk Dom Pérignon may have tasted stars but this bottle of sublime French Chardonnay resulted in our accountant leaving the profession, moving his young family to the Cape winelands and starting a new life's journey.
The man in question is Gyles Webb, now the owner of two renowned South African wine estates – Thelema Mountain Vineyards outside Stellenbosch and Sutherland Vineyards in Elgin.
After his epiphany, Webb headed to Stellenbosch – with his wife and baby son in tow – to do a B.Sc. (Agric.) degree majoring in Viticulture and Oenology. He then worked for Stellenbosch Farmers Winery (SFW) and did a stint in California before purchasing a run-down fruit farm at the top of Helshoogte Pass in 1983. This became Thelema which released its first wines in 1988. In 2002, a second wine estate Sutherland was added to the family stable.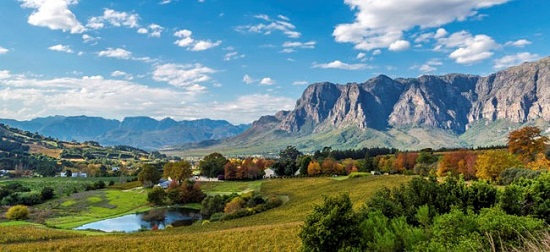 Situated on the slopes of the Simonsberg Mountain, Thelema occupies mainly south-facing aspects that afford spectacular views of the Simonsberg, Drakenstein and Jonkershoek mountains. Elevations ranging from 370 to 640 meters above sea-level make the 157-hectare estate one of the coolest and highest wine farms in Stellenbosch.
Webb was named John Platter's Wine Man of the Year in 1993 and was the Diners Club award winner for 1994. Current Thelema and Sutherland winemaker is Rudi Schultz while Webb remains as owner, director and cellarmaster.
Although it was a white wine that captured Webb's imagination all those years ago, the high altitude and rich red soils at Thelema are ideal for premium quality wine grape production and the estate is now one of the leaders in Cabernet Sauvignon, placing Stellenbosch Cabernets firmly on the global wine map.
With some of the most exceptional terroir in the Western Cape, Thelema have rightly resurrected and restored their premier league standing as one of the most sought after and age worthy wine producers in the Cape, a position they held throughout the 1990s and early 2000s.

Travellers on Rovos Rail can sample the Thelema Cabernet Sauvignon 2018. This was a warm, dry vintage with a late start which resulted in smaller tonnage but yielded balanced, well-structured wines with lovely intensity.
All fruit was destemmed, crushed and pumped into stainless steel tanks and saw two aerated pump-overs per day during fermentation before being racked into barrels for malolactic fermentation and an additional 18 months of ageing in French oak barrels, 40% of which were new.
It is complex and stylish, with classic Stellenbosch Cab aromas of ripe blackcurrant, violets, dark chocolate, cedar wood, cedar spice and pencil shavings. This wine is bone dry yet exhibits a lovely sweet fruit character on the palate, showing exceptional depth, weight and length. It is drinking well now, but you can tuck this wine away for 15 years for greater reward. It is a perfect accompaniment to grilled beef, especially with a Béarnaise sauce and rocket salad.
Nearly 20 years after purchasing the Thelema farm, Webb felt it was time for a new challenge. He embarked on a search for the right property and terroir for a second vineyard and, in 2002, purchased an idyllic apple farm in the cool coastal region of Elgin and Sutherland was born. Sauvignon Blanc and Chardonnay grapes were planted first and more varietals added over time.
The Sutherland Vineyards are situated nine kilometres off the Atlantic Ocean with altitudes of 140 to 250m above sea level with ideal cool climate conditions.
The same ethos is used with Sutherland as with Thelema: Grape quality being the single most important factor and a policy of minimum interference, allowing the wines to be a true expression of each vineyard.

The Sutherland Riesling 2021 is made in an off-dry style, showing fragrant spice, orange blossom and lime on the nose with flavours of white peach, hints of citrus and an elegant minerality. The wine shows a delicate balance of sweetness and acidity. Enjoy as an aperitif or with salads, chicken and mildly spicy dishes.
You may be interested to learn that Thelema is named after monk, doctor and writer François Rabelais' Abbey of Thélème, an imagined utopian abbey on the banks of the Loire. Only one law governed its members: "Fay ce que vouldras!" – "Do what thou wilt!" Among Rabelais' more memorable quotes were "Wine is the most civilised thing on earth" and "Never did a great man hate good wine."
It is a message that Webb clearly took to heart more than 40 years ago.
Anorak Facts
Thelema Cabernet Sauvignon 2018
Residual sugar 2.1 g/l
pH 3.48
Total acid 5.7 g/l
Alcohol: 14 %
Awards: 4.5 stars Platter's Wine Guide 2022;
93 points Tim Atkin and Greg Sherwood
Vegan and vegetarian friendly
Sutherland Riesling 2021
Residual sugar 6.0 g/l
pH 2.77
Total acid 7.9 g/l
Alcohol 12.5%
Vegan and vegetarian friendly
Only 5184 bottles produced