Katavi, our new earth-friendly amenities
We're doing cartwheels with excitement as we welcome our new earth-friendly amenities by Katavi on board our trains!
We've spoken a bit about how our time during the Covid-19 pandemic and the various stages of hard lockdowns was not idle. Being forced to press gave us the gift of time and we were finally able to do in-depth research into earth-friendly products that are locally made, contribute to community upliftment and are packaged in recyclable or biodegradable materials.
We provide guests with an amenities kit on board which includes the usual – shampoo, conditioner, body wash, hand and body lotion, ear buds, sunscreen, insect repellant and tissues. We undertook to look through each item to see where we could improve in terms of our sustainability efforts.
We were so happy to discover Katavi, a company founded by two women who knew that they could leverage what nature has to offer and also create a sustainable and earth-friendly product range.
Janine Halsted is a veteran in the beauty industry who was raised in Zimbabwe. It was early on in her life that her father, a cosmetic scientist, introduced to her the pitch black and earthy-smelling Kigelia fruit. He had noticed locals from rural villages rubbing the fruit on their skin for hydration and protection.
Janine's father later developed a less than appealing product range using Kigelia and convinced Janine's best friend, Carolyn, to use the product which in fact improved her complexion enormously. Carolyn knew that there was merit to the product and worked with Janine to improve on the look and smell without damaging the cream or the environment.
After 17 years of developing and launching new products, always staying true to their beliefs of utilizing Kigelia and other "super fruits", they decided to further expand distribution and enlisted the assistance of Gus Lebreton, an ethno-botanist and founder of PhytoTrade, a southern African natural products trade association.
The result of over 27 years of work, Katavi is an all-natural anti-aging skin care collection. The range features wild-harvested, certified African oils and extracts—free of chemicals and toxins. The Katavi products we provide our guests are "Goggatjie", an insect repellant, shampoo, hand and body wash and hand and body lotion.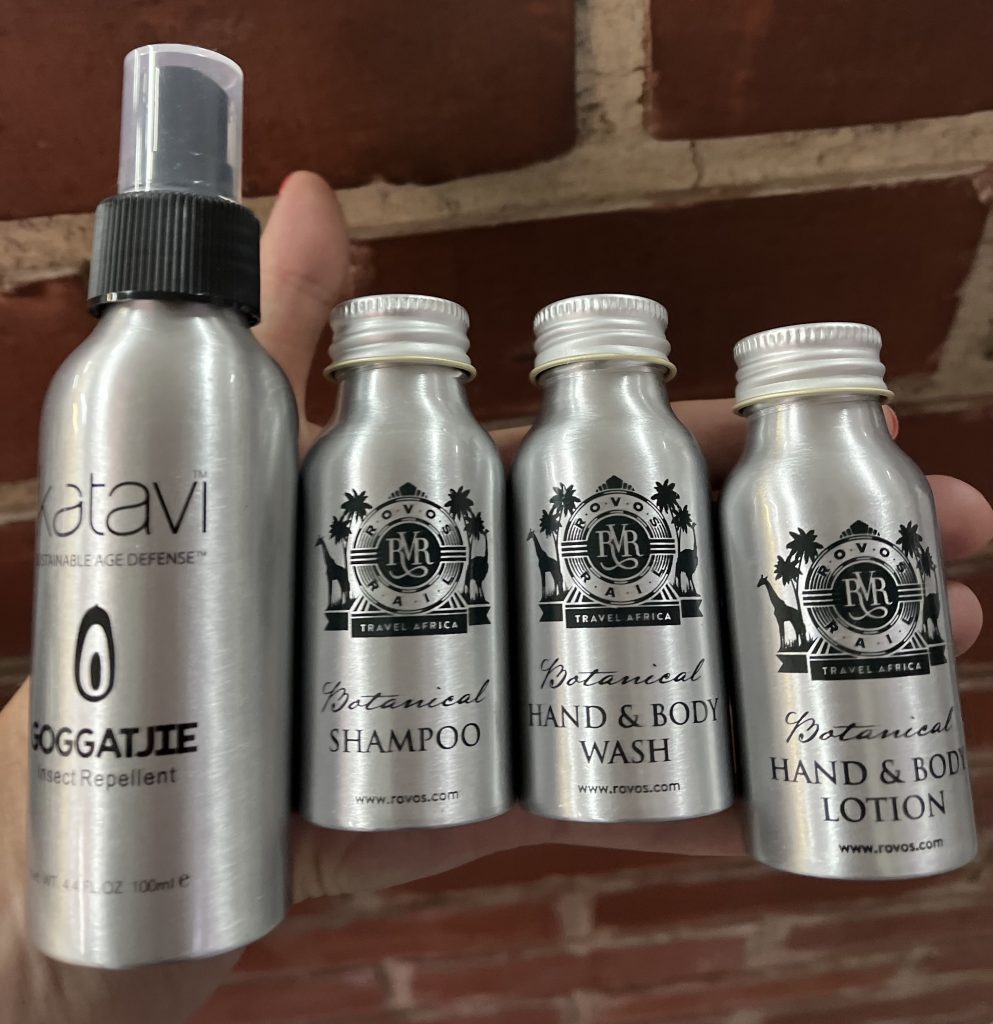 Packaged in environmentally friendly, recyclable, airless pump bottles, Katavi's products contain no parabens, no artificial colorants, no perfume, and no petroleum-derived ingredients with no testing done on animals.
We're going to be introducing you to our new sustainable, locally made and earth-friendly products over the next while so check in with us from time to time to see how we live up to our colour green!