On the 9th of February this year, a group of adventurous travellers will board our Shongololo Express train for the maiden voyage of African Trilogy. It's always exciting when we launch a new route and this trip was a labour of love from beginning to end. African Trilogy on board the Shongololo Express is set to be a marvellous 15-day sojourn that will engage with all our guests' imaginations and curiosities.
The train departs from Rovos Rail Station in Pretoria making its way to the famed Kruger Park for a safari experience. The Shongololo Express then travels to the Kingdom of eSwatini (formerly Swaziland) before making its way to Northern Zululand for a game drive in the Hluhluwe wildlife reserve and a tour of the city of Durban and its tropical botanical gardens. Saying goodbye to Kwa Zulu Natal, the train traverses the Valley of a Thousand Hills and the breathtaking Drakensberg Mountains to the 1870s mining village of Kimberley. Passengers are then transported to a different world with the dry and arid Karoo, through Upington and onto the Fish River Canyon. Once in the Kalahari desert, guests visit Garas Park before they board a light aircraft for Sossussvlei where they will overnight at a lodge surrounded by the imposing dunes of the Namib-Naukluft Park. Back on board, the train meanders to Windhoek and then into the game-rich Etosha National Park for another overnight stay before journey's end in Walvis Bay.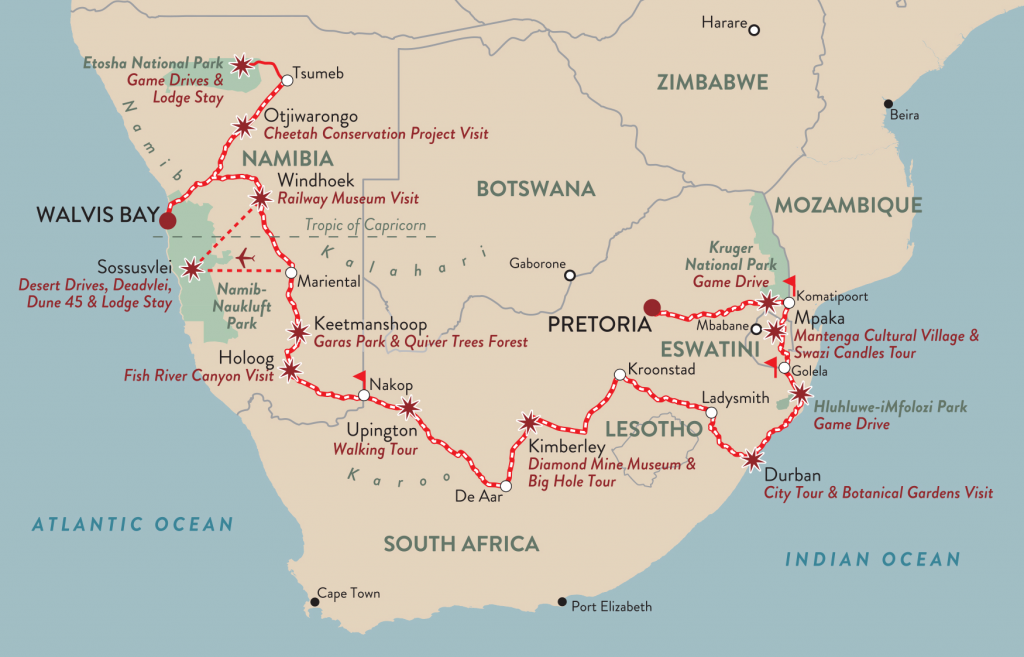 Rovos Rail purchased the Shongololo Express in 2016 and spent the following year renovating, refurbishing and breathing new life not only into the coaches but also the itineraries. We first wrote about the procurement of our new train in 2016 and since then have operated the 12-day Southern Cross and Dune Express itineraries as well as the 15-day Good Hope trip. To be able to include an additional 15-day adventure, the African Trilogy, is a real accomplishment and we believe this new journey will provide guests with a true cross-section of some of Southern Africa's most varied scenery.
We hope to welcome you on board one day soon and share in many memorable experiences with you.
reservations@shongololo.com | +27 (0) 12 315 8242