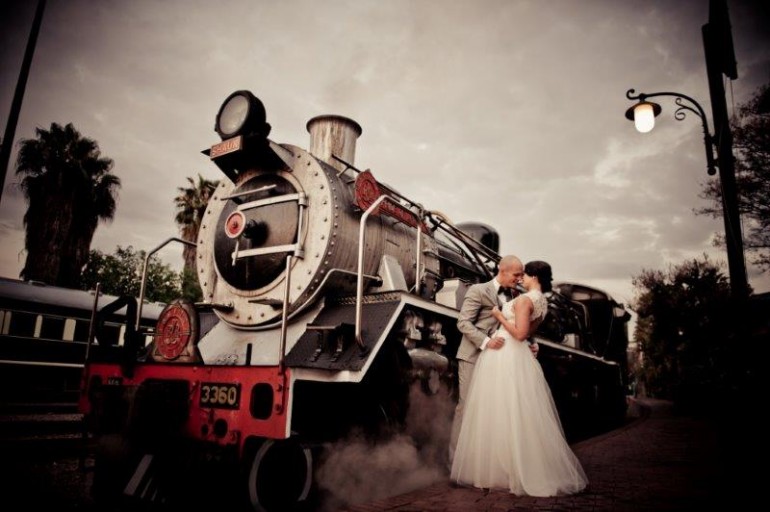 Oh, how Rovos Rail loves weddings! With a predominantly female reservations and sales team, romantic weddings are on the list of what we love to do and supply us with wistful office chat on Monday mornings.
Weddings with us are different. Very different. The bride arrives not by classic car or horse-drawn carriage – or, for that matter, riding a horse – but on one of our beautiful vintage steam locomotives, the oldest dating back to 1839. The intimate ceremony is held in our charming red-brick station building with speeches given as the locomotive moves off the platform to collect the train that will host the wedding party on a four-hour loop around Pretoria. Guests step aboard our 'Champagne Train', for a four-course meal paired with some of South Africa's best wines. The mood on board is celebratory and sweet with the couple's most near and dear enjoying their special day.
Once dinner is over and guests have enjoyed apré dinner drinks in the observation car, the train chugs its way back to Rovos Rail Station where perhaps a band is waiting on the platform for some dancing and just a little more bubbly. The couple share their first dance as Mr & Mrs and then, a bit later, coffee and the cutting of the cake. Summer evenings in Pretoria are always warm and with the silhouettes of our big Jacaranda trees casting a dreamy backdrop, the station's platform makes for an idyllic venue for couples looking for something extraordinary.
We're so chuffed to recently have been voted one of Pretoria's top wedding venues by I Do. The couples who have chosen to host their weddings here, at our station, and then on board the train have been lovely and all happy with their choice of venue which tickles us Rovos girls pink!
Depending on the number of guests, our little Events Train can host, with a full bar, a four-course sit-down dinner for up to 120 guests, a three-course sit-down meal for up to 240 guests in two sittings or, for 250 guests, hot snacks, canapés and cocktails served for the duration of the journey.