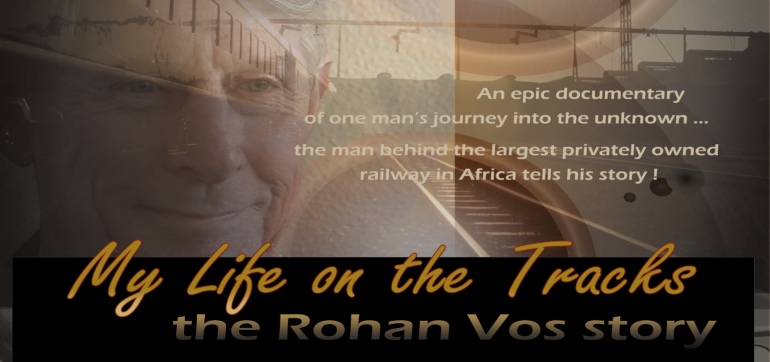 Rovos Rail hits screens in Hollywood!
By Brenda Vos
Yes, you read that right and we couldn't be more chuffed. Rovos Rail hit the screens in Hollywood thanks to local documentary maker, Deon van Zyl. This project evolved from one man's quest to learn about film-making to creating a short movie that not only received an Official Selection at the Hollywood Independent Documentary Awards but was also a winner in the category, First Time Filmmakers! My Life on the Tracks – the Rohan Vos story is the tale of how Rovos Rail came to be and how Rohan has powered through monumental challenges to keep the business in operation.
Deon worked as a Project Manager in the engineering arena but was retrenched in 2015 which prompted him to follow is passion in film-making. He travelled with us in 2007 and it wasn't until he met Rohan on the station platform that he first thought about the man behind Rovos Rail. It fascinated him that a man could be so bold to own and operate a luxury train in Southern Africa but also that Rohan's story had not been told in full.
Deon contacted me last year to request permission to film the train at our private station. I must receive about 10 calls like this month so I didn't really give it much thought but I did invite him to join us on a Friday afternoon as we can have two departures that day so there is a lot of action. Not too long after that Deon asked if he could interview my Dad (Rohan) and me to which we obliged and then off he went. Honestly thinking this was a hobbyist who was a bit train-obsessed I still didn't really give it much thought. And I mean this in the most humble way possible because it is obviously flattering when people are excited about what we do but there are true train fanatics out there who border on the edge of lunacy and I thought Deon was one of them!
A month or two ago an e-mail dropped into my inbox, from Deon, which gave me the link to the trailer for his movie. Well, you could have knocked me over with a feather! It's not often that these sort of things come to fruition and now here I was watching a trailer for a short film on my Dad. I got a few goosebumps and a bit teary listening to my Pops talk about the struggles over the years but there was also an immense feeling of pride.
Deon's "disaster project", as he affectionately calls it, has blossomed and the recognition he received in the States has spurred him on to have the film screened in South Africa. Not an easy process but we understand that negotiations are in the works with local television networks eTV and ED190. Deon has also entered a few African film festivals such as Africa in Motion, Rapid Lion and KleinKaap. Although Klein Kaap is a small festival, it might prove to be just the perfect fit.
Next on the agenda for Deon? He wants to make a documentary that looks at Pathogenic Parenting (Attachment Based Parental Alienation) and its prevalence not only in our society but also in a global context. Another idea manifesting is a short film on the consequential problems associated with the divergent perceptions of the rich and the poor groups in South Africa.
We have no doubt that both these documentaries will be made with the same determination and passion as My Life on the Tracks – the Rohan Vos story. Deon, thank you for all your passion in telling The Boss's tale. We wish you all the very best with your next endeavours.
Click here to watch the trailer for My Life on the Tracks.