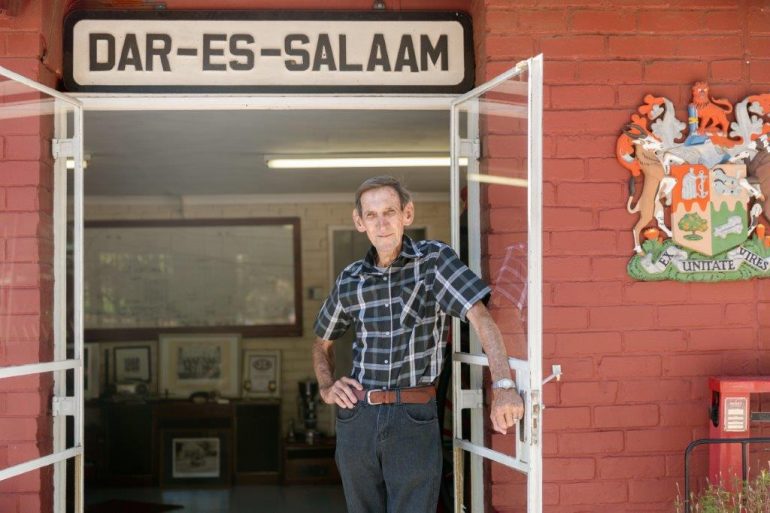 Oom Gert and the Rovos Museum
By Janine Avery at 5 Star Stories
Arrive at Rovos Rail Station in Capital Park, Pretoria and you'll find a red carpet laid out before you. A smiling porter is ready to relieve you of your heavy luggage, and a bow-tie clad gentleman is holding out a glass of sparkling Champagne. And thirsty while you may be, we advise you don't enter those hallowed doors to our red-brick station building just yet.
Instead take a sharp left, let the antics of two tame llamas put a smile on your face, marvel at the mighty horns of some Nguni cows, and venture just a little further into our very own museum. Here, the rough gravelly voice of Gert van Rensburg aka Oom Gert (Uncle Gert) will welcome you back in time.
Boarding his very first Rovos train over 20 years ago, Gert was acquainted with a very different side of train-life than that which you will come to experience on your trip with us. That's because he spent his time in the engine room.
As one of our most valued train drivers, Gert's office was the hot, noisy and smoky end of the train, where he toiled away with one goal in mind. That being to get his passengers where they were going safely and on time! It's a job he did with utmost aplomb, but it wasn't without tribulation. Spend a few minutes talking to him and you'll be regaled by tales of elephants on railway tracks and troublesome and tiring steam powered locomotives from days gone past. In fact, so busy was he driving trains that it was only recently that he ventured back into those luxurious cabins for a trip as a guest. And while he may have now let go of his reigns and passed on his hat, and a wealth of knowledge, to the younger generation, Gert is still a valued employee here at Rovos. He now runs the museum at Pretoria and its clear it's his pride and joy.
Packed with artifacts which reflect Rovos' 30 year history, as well as interesting items and train memorabilia from around the world, we aim to develop the museum into the foremost train museum in the world. While you're waiting for your train to depart, the little ones can also wile away the hours playing on a refurbished old tractor or acting out yesteryear inside a traditional telephone booth. There's also a massive scalextrics track and heaps of model trains that are bound to keep the boys, and girls, enthused.
You'll need to tear yourself away eventually but before you do, stop and play a while, listen to the stories of Gert, of which there are many to hear, and relive a different era. Just be sure to leave yourself enough time to explore this little piece of history before stepping on the train yourself and enjoying your rail adventure!