The Pride of Africa: Trade Haste for Scenery and History
With the modern stresses of life, it's not surprising that travellers seek an escape from their daily routine and working lives. If you are among those who yearn for a change that encompasses new scenery, smells, and tastes, then let the Pride of Africa whisk you away gently on what may be your best adventure yet.
If you've never travelled through southern Africa, yet you've read or heard about its remarkable landscapes and wildlife, then touring by luxury train along snaking mountain passes past beautiful indigenous fauna and flora will present the perfect first encounter with the Mother continent.
Rovos Rail Station, Capital Park, Pretoria
Your journey will commence at Rovos Rail Station in Capital Park, Pretoria. Although Pretoria is not usually considered a "not to be missed" tourist city, it is still photo-worthy. During summer, Pretoria is awash with periwinkle and lavender as jacaranda trees reveal delicate blossoms – it can almost be compared to cherry-blossom season in Japan.
Walking onto the property, beautifully restored locomotives stand glistening in the sun, ready to transport guests on world-class adventures, while a resident peacock parades proudly in the background, showing off his striking plumage. As you glance at the station building, you'll notice that Victorian and Edwardian architectural style is alive and well, and inside, the atmosphere is no different: elegance and romantic 1920s nostalgia is a key theme at Rovos.
Once guests have settled in at Rovos' station lounge, they can look forward to hearing from Rovos Rail owner Mr Rohan Vos on what to expect during their chosen journey aboard the Pride of Africa. Drinks and snacks are served, while guests get acquainted with one another before boarding the train.
The Pride of Africa
The Pride of Africa's carriages date back as far as the early 1900s. The décor inside is truly exquisite and guests can look forward to enjoying the luxuries of a modern lifestyle juxtaposed against dark wood panels, polished teak furniture, and soft emerald and gold carpets. Those who wish to read up on Africa during the journey are welcome to explore the small library. Smokers needn't worry about when their next smoke break will be as there is a smoking room on board, as well as a gift shop for purchasing African souvenirs to take home for family and friends. The most exciting part has to be the observation deck from which passengers can admire the scenery as it rolls past, breathe in some fresh country air and snap wildlife. It doesn't matter where on the train you sit as huge glass windows enable guests to peek out every so often and take in the dramatic landscapes. Depending on which journey you undertake, the landscapes change from rivers to vineyards, mountains, meadows and small towns.
Train cabins
The Royal Suite
The Pride of Africa has three cabin classes, all of which are en-suite. The Royal Suite, the size of half a carriage, has two plush armchairs, a soft double bed (or side-by-side twin beds), a writing desk, a fully stocked mini fridge, and a wardrobe with a built-in safe. The en-suite bathroom has a heater and heated towel rails, which is a necessity during cold mornings and evenings. The Royal Suite is the epitome of Victorian opulence with its handsome wood panelling and original light fittings which cast an inviting amber glow throughout the cabin. The spaciousness of the cabin allows for privacy, comfort and luxury.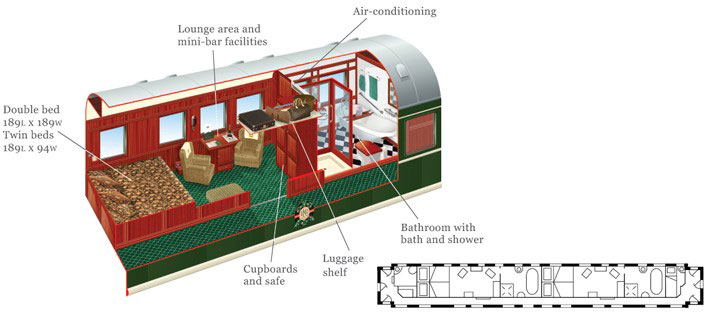 The Deluxe Suite
The Deluxe Suites are slightly smaller than the Royal Suites, although they too have a private lounge area and an en-suite bathroom with a shower. The suite also comes with a refurbished sleeper couch and a stocked mini fridge with a choice of beverages.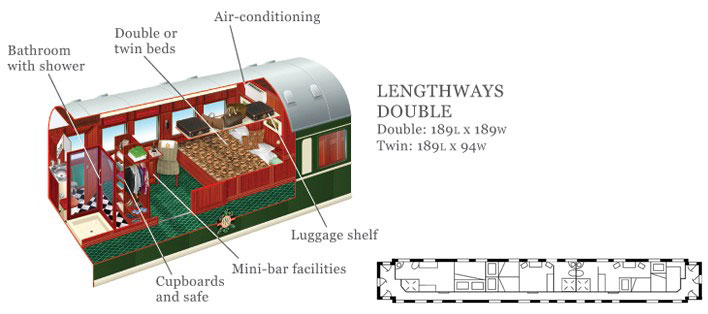 The Pullman Suite
The Pullman Suites offer comfortable sleeper couches, which can be converted to double or twin beds in the evening. The Pullman's are also en-suite but only have a shower. The room is equipped with a mini bar fridge too.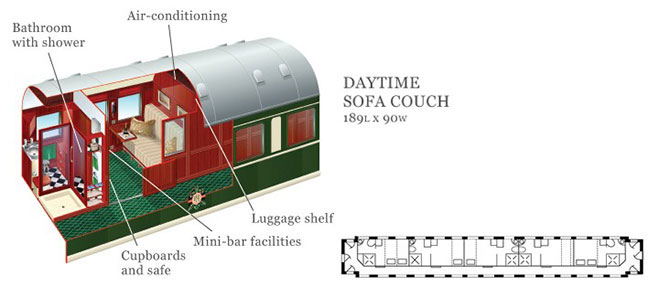 No matter which room you choose, you can always expect to return to a clean room in the evening. While guests enjoy their dinner in the dining cart (dinner time is announced by a gong), beds get turned down and lights are dimmed. You'll find out first-hand how incredible it feels to lie in a soft bed with fine linen, while the clickety-clack of the train lulls you to sleep.
Dining aboard the Pride of Africa
Dinners aboard the Pride of Africa are grand affairs: expect gentlemen in suits and ladies in elegant dresses. Here, only the finest threads with equally dazzling jewellery and cufflinks are on display. Guests are seated around tables with starched tablecloths and napkins, while food is served in fine china and drinks in crystal goblets. Rovos' five-course cuisine celebrates South Africa's local delicacies, so expect to see lobster, Cape bobotie, and slow-roasted Karoo lamb shank on your plate. For dessert you'll enjoy jam-glazed sago pudding, dark chocolate fondant, milktart and koeksisters – a true feast for the palate. Experience aboard truly rivals that of any five-star hotel.
The Pride of Africa undoubtedly lives up to its name as the most luxurious train in the world. If you'd like to be a part of this phenomenal sightseeing journey, have a look at our selection of itineraries – the hardest decision will be choosing the one for you.