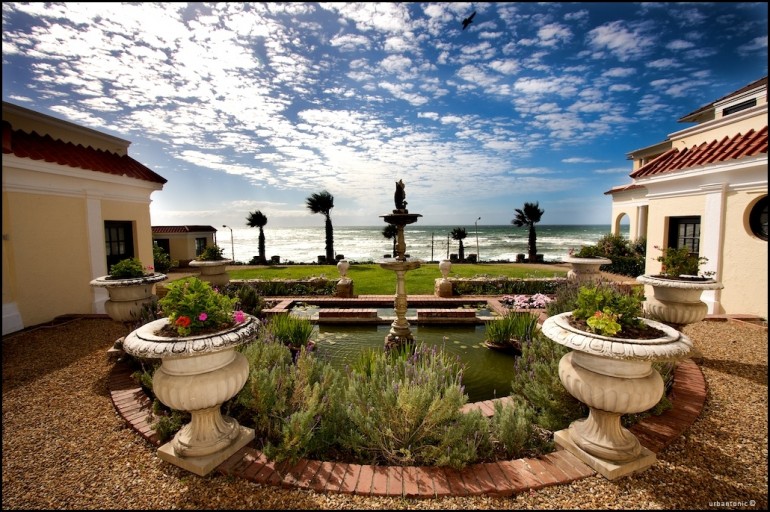 (Image: the gorgeous garden view at Casa Labia)
Written by @thebleugoose
We're fortunate to have built up a loyal and enthusiastic membership for our Rovos Club over the years. One of our lovely guests, @thebleugoose, has travelled on the train and stayed at St James Manor a few times. She's a lover of luxury, she has a discerning palette and when it comes to wines, she knows her stuff…sometimes more than we do!
A bagel, some art and a drink to end – a few of my favourite things to do in Kalk Bay ….
My husband I live in Cape Town but we try as often as we can to escape to the tranquility of Kalk Bay, an idyllic but eccentric sea side fishing village not too far from the beautiful wine estates of Constantia and the must-see Cape Point. We always stay at the St James Manor and as soon as we get out of the car and smell the crisp sea air and hear the ocean breaking on the rocks we know we have a relaxing few days ahead.
Now I am not a morning person, even with a toddler, so my husband regularly does the the breakfast run, but we always wake up early in St James and look forward to our first coffee of the day at Bob's Bagels. A short walk from the Manor and up a narrow cobbled street is where you'll find Bob's, a hole-in-the -wall coffee roastery run by the man himself. Our search for a little French patisserie came to an abrupt end as soon as the delicious baked goods and fresh coffee smells had us walking into this delightful little café in a trance. The coffee is freshly roasted and served in pottery bowls and the bagels are mouth-watering. And if it gets too busy inside you can always perch on one of the benches outside and admire the sea view. To complement the cosy atmosphere, there is a little pottery studio and gallery next door which house beautiful pieces that are all locally made.
Another of my favourites is Casa Labia, a café and gallery set in a beautiful old home built in 1929 for the Count and Countess Natale Labia. It is a national monument and heritage site and my husband and I just love going there for lunch. The rooms are beautiful and look out over the Muizenberg coastline. Lunch is always a lovely affair as they often have a pianist or quartet playing in the background. The food is light and delicious and the wine list simple but perfectly suited. We often stay well into the afternoon enjoying the sounds of Bach and watching out for dolphins.
By now our tummies are full and after a much needed nap we venture out again where we always pop into the Octopus Garden. A quirky bar and restaurant in the St James Old Post Office Building. It is right on the railway track and although you cannot see the sea too well one can smell and hear the crashing of the waves on the rocks below.  It is filled with a menagerie of odd bits and pieces with beautiful and somewhat strange quotes written over all the walls. I always order my Campari and soda and my husband a beer and we chatter late into the night – we just love this place!
There is so much more to do in St James and Kalk Bay that it's actually too much for one article! Trips to the world-famous Cape Winelands are easy and the staff at the guest houses are happy to arrange tours up Table Mountain or to the V&A Waterfront, golf and tennis games or send you on one of the breath-taking hikes in the area with your own personalised picnic!
Until next time, Lucie.