The Magic of Train Journeys!
We recently had the pleasure of welcoming Canadian author and travel writer, Margaret Deefholts, on board the Shongololo Express on the Good Hope-Golf tour. Margaret is the co-founder of Travel Writers Tales and shared her experience on the company's website.
On and off the Rails in South Africa
By Margaret Deefholts
There is an enormous shudder, a loud clanking jolt…and wheee, we're off! I peer out of my window as the sign "Cape Town" on the railway platform slides away into my past. We are moving…new horizons beckon.
Oh the magic of train journeys!
Sholongololo, the train I'm riding on, is aptly named after the Zulu or Xhosa word for millipede. It curves sinuously along the rails, through the African landscape –the sky bending like a blue bowl over the grassy veldt stretching to the distant horizon.
The last couple of days have been memorable ones. Although Cape Town is now folded into the past, it is nonetheless as sharply etched in my mind as its iconic Table Mountain that stands high and proud against the sky, the city's buildings sprawling in its shadow, and the dark blue ocean prowling its beaches.
Along with a group of friends, I've sat entranced on the upper deck of a hop-on-hop-off Cape Town bus, watching the road curve and dip past beaches thronged with surfers, and sun-worshippers, the sands bleached blonde in the blaze of the afternoon sun and where the breaking surf shudders and roars. Palatial homes line the seafront, vivid bougainvillea creepers showering down their whitewashed walls but I notice that many are topped with snarls of barbed wire.
The dining car tables glitter with fine china and silver cutlery set out on crisp linen tablecloths. This first dinner, like the rest of the meals throughout our 13-day journey on the Sholongololo is five-star quality. Our breakfast buffets boast a variety of pastries, juices, cereals and fruit platters, riotous with color as a Cezanne still-life painting; our dinners consist of dainty appetizers, sumptuous veal, chicken or fish main courses, and rich desserts. All served by our gracious, smiling African waitresses. At the end of our journey the chief chef and his kitchen staff get a well-deserved standing ovation from appreciative guests.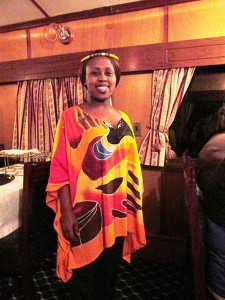 The Sholongololo experience is more than just a train ride. I am lulled to sleep each night by the roll and rhythm of the wheels, but after breakfast we spill out onto station platforms and board coaches to be whisked off into day-long excursions accompanied by our fun-loving and knowledgeable driver-guides.
And there is so much to see. South Africa's natural beauty is on display as we stroll its lush tropical gardens, drive through rolling countryside, and over craggy mountain ranges, past vertiginous canyons and rushing streams. There are magnificent sunsets that set the sky is on fire, and fierce afternoons when the sun is at white heat.
At the Cape of Good Hope, the wind is a hysterical banshee, and we watch gigantic rollers as high as twenty to thirty feet rushing madly to the rocky shore, and breaking into enormous clouds of spray that blot out the skyline. The unending roar and hiss of the primordial ocean—its fathomless depths and its furious and intense energy is like staring at eternity. These waters are the haunt of the legendary phantom ship, The Flying Dutchman, the sight of which is regarded by sailors as a harbinger of doom.
Leaving the heaving sea behind we visit Boulders, where a colony of hundreds of Cape Penguins waddle around on a beach some tending to their babies, others patiently sitting on eggs, or engaging in amorous couplings.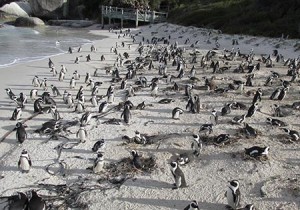 A couple of days later, a wetlands river cruise reveals a pod of impassive hippos, their droopy-lidded eyes and flaring nostrils floating just above the water; upstream, a crocodile suns itself among shoreline reeds.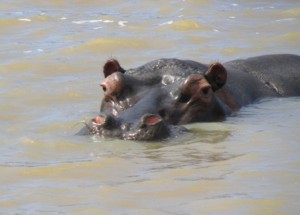 At Kruger National Park, we drive dusty trails past thorn bushes and trees with branches that twist into macabre silhouettes again the sky. Herds of antelopes, loping giraffes, Cape buffaloes, a lone leopard, and a group of rhinos wallowing gloriously in a mud hole are all subjects for our cameras. A baby Jumbo, ears flapping, breaks away from his group and makes a mock charge at us. But it's only for show and fun over, he takes off after his Mum as she crashes through the trees.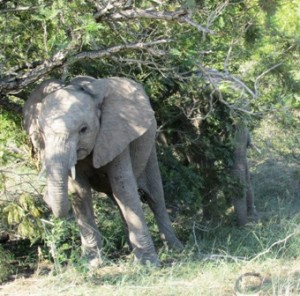 A visit to a Zulu settlement is a popular tourist attraction and we sit bemused at the closing item – an energetic and vastly entertaining Zulu warrior dance.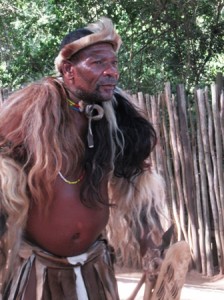 And then, there are moments of sober reflection as we explore the now extant Kimberley's DeBeer diamond mine, a place of sudden death and tragedy in 1914 after which the mine closed down.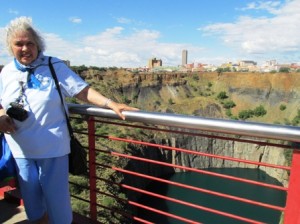 In Durban the beaches bordering the placid Indian Ocean are thronged with holiday crowds, as are the shopping arcades where we gleefully buy curry spices from Indian merchants who have lived in the city for generations.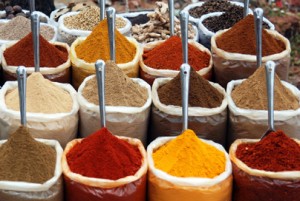 (Image via Eat Out)
Africa's dark days of apartheid are on show as well. In Johannesburg, we tour Number 4 jail at Johannesburg's Constitution Hill and are sickened, by the egregious prison brutality once meted out to blacks inmates. Later we walk the streets of Soweto, past Desmond Tutu's home and linger to read emotional tributes carved on stones that are placed on the sidewalk in front of Nelson Mandela's house.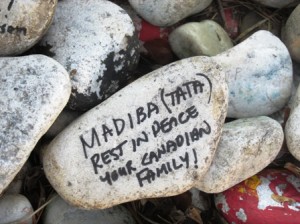 All good things must come to an end, and we bid a reluctant farewell to the hard working, efficient and hospitable staff on board the Sholongololo and our driver-guides who have made this holiday such a never-to-be-forgotten experience.
_________________________________
IF YOU GO:
Note: Having recently been acquired by Rovos Rail, the Sholongololo train carriages are to undergo a complete overhaul as many of the compartments are old and cramped and several fittings are in need of repair. The train will be back in service in August and details of dates and prices are available on their website.