A Dad and his Daughter go on a Train Date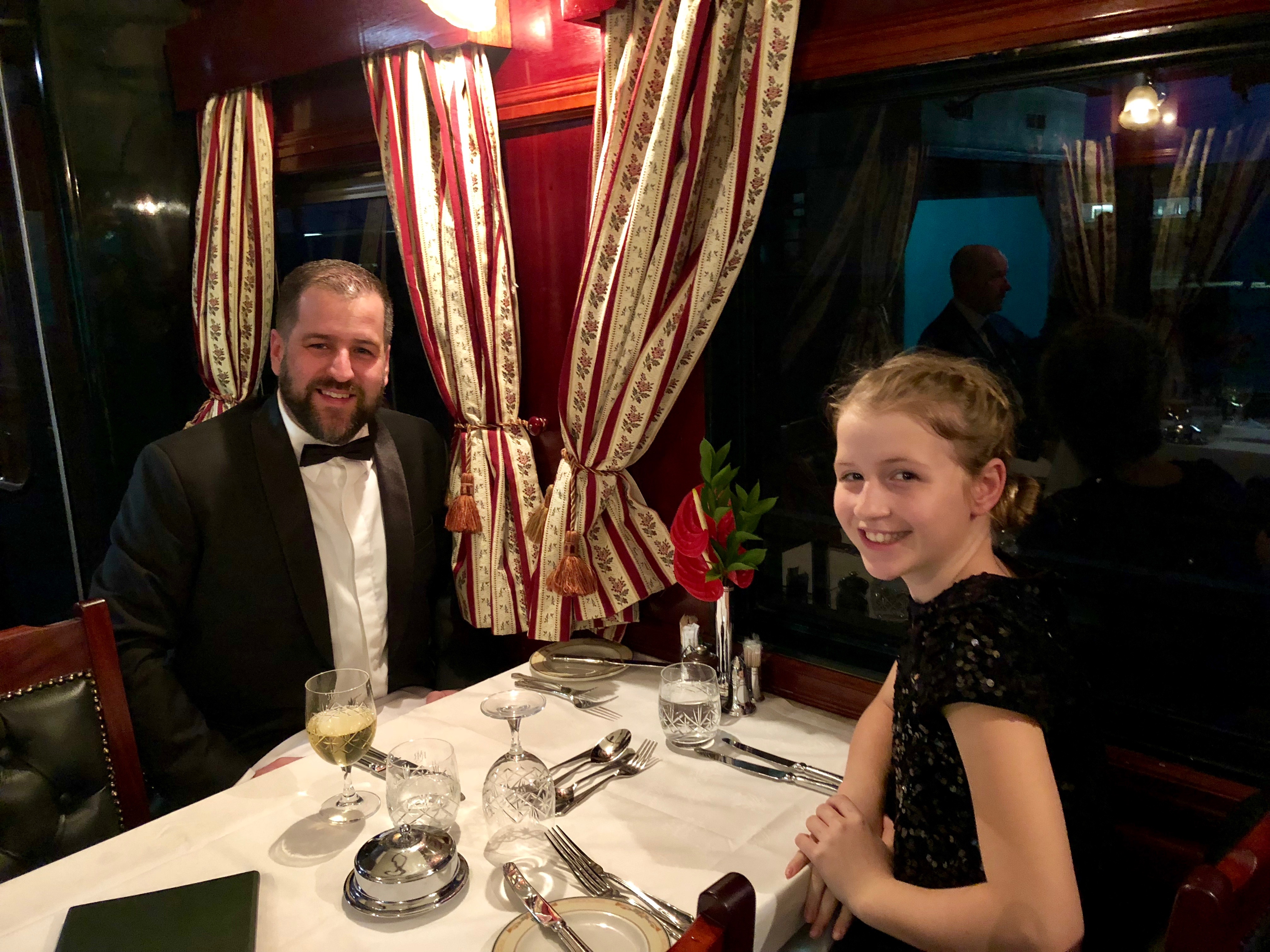 We recently received a lovely letter from a Dad who decided to treat his 11-year old daughter to a train trip. What fun and what a special Dad and and daughter date!
Mr Pflaum travelled our two-night Cape Town journey with his daughter, Léonie, and other than a glowing report they also sent us images and a video from their time on the train and in South Africa!
Dear Brenda,
I don't have words to describe our journey a few days ago. It was just a blast! It was a dream of mine for several years to do that – but I had to wait, until my oldest daughter was old enough to realize all of it and enjoy it. Léonie (my daughter) is 11 years old and she never felt bored on the whole journey – she would like to extend for another 1 or 2 nights! I pick out one of my girls for some of my travels and this time Léonie was the one who could enjoy South Africa with me. I attached a few photos of us ;-D
We've expected a lot – but all our expectations were surpassed! From the Pretoria station, the train, the stops, the great crew on board (with Heinrich – our favorite in the restaurant ;-D) and the great welcome speech of your father. The most impressive part – beside of all the overwhelming rest – was, that your father even made it to Cape Town to say Good Bye with a handshake and some nice words. I was stunned and the journey was worth every Rand we spent – even much more! I can't describe it with words…!
Thanks to the whole team – in the front and in the back to make something like that possible! Not only to invest with an "all-in" strategy in something new, to have a vision of something great and to realize the vision in an even better way – but to keep it up so many years and still be in the front, searching the contacts with the costumers directly and share the vision as a "once in a lifetime experience"!
I really hope that I can come back very very soon to show this to the rest of my family – my other two daughters and my wife. Thank you all so much and keep everything as it is! My English is limited, so I don't have other superlatives for everything. But please hug your father from our side – as well from my daughter! Next time, if we see him, we will do it personally! THANK YOU!!!
Here you find a little trip report video from us, which I just created with my iPhone (together with a little soundtrack, which I created together with a good friend back in Kingston, Jamaica). If you have some time, feel free to watch it: https://youtu.be/krB0iYX6YE8
Ah yes: Did I say THANK YOU already? If not: THANK YOU for everything! I had and I will spread this great experience with many others!
And Dad of the month goes to you Mr Pflaum! Thank you for your kind words, they certainly brightened up our Monday and made us feel very content with the work we do here at Rovos Rail.
To all Dad's out there – bring your daughters on a date with us! As you can see it's a spoil that does wonders for what is a very special relationship.