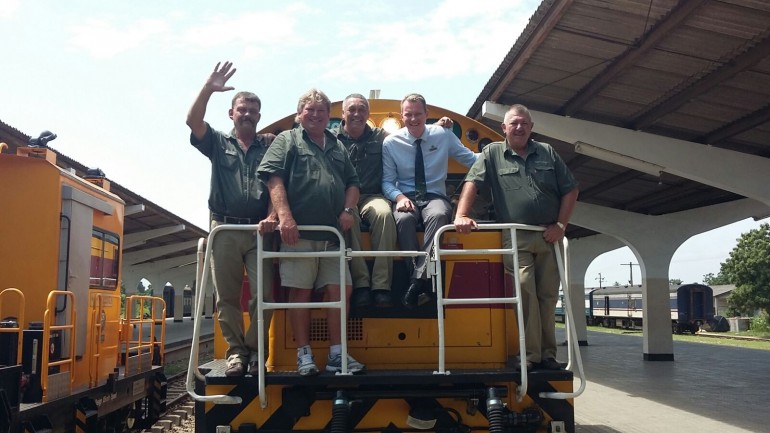 Six New Diesel Locomotives for Rovos Rail!
After a few years of trying to grow our Rovos family of locomotives, we are proud to announce that we have finally purchased six diesel locomotives. This is a huge accomplishment for us as up until now we've had to outsource this haulage to private companies at a substantial cost. We were eager and excited to test their mettle to see if they measure up to our expectations and the wonderful news just in is that two were used to haul the train from Pretoria to Dar es Salaam and they made it there on Saturday with no hassles and on time! A huge thank you and congratulations to our drivers and to Eric, the train manager, and his team.
Acquiring our new locomotives wasn't an easy task, to say the least. The search for six mainline diesels began in 2008 when we undertook a journey to Namibia to view the new Chinese SDD diesel locomotives, purchased by Trans Namib. Sparked by our interest in these locos, we decided to travel to the CNR train factory in China to explore the possibility of placing an order. Upon entering the warehouse, we noticed that their trains were mass produced. We considered making a purchase, but the price, quality and availability of spare parts concerned us. Our intuition and experience in the locomotive industry told us that we needed to look elsewhere – and so our search continued.
Since our visit to China, second-hand locomotives have become scarce. It was only in 2012, four years later, that we heard about Queensland National selling serviceable trains. We decided to go all the way to their head office in Brisbane only to be disappointed in discovering that all the trains had already been bought by Apex Industrial and resold to RRL Grindrod, AR&TS and Saflog.
After our failed endeavour to secure a purchase from Queensland National, we ventured to New Zealand after news surfaced of KiwiRail's plan to withdraw a number of diesel locos from the Auckland suburban network. KiwiRail had ordered themselves brand new trains from China to replace their current trains but once the Chinese trains were inspected, they realised that they contained high levels of asbestos. The new trains were returned to China causing KiwiRail to withdraw its decision to sell its older working trains – this was unfortunately a further disappointment for us.
Yet we soldiered on in our search.
In October 2013, a new tender was released in Perth for the purchase of 23 locomotives. Among the 23 trains, five stood out above the rest. These five were members of the DD Class, which were built in 1970 to transport coal in Queensland. Reviewing the history of these trains proved to us that the DD Class was a reliable model – exactly what we wanted as additions to our Rovos family. The five locomotives that we were interested in were previously sent to EDI loco works in Port Lincoln where they were stripped and rebuilt using new or overhauled spares and parts, such as power units, electrics, traction motors, bogies and main generators. The trains' cabs were also modified beautifully and fitted with air conditioning, a microwave, fridge and bathroom facilities.
Again, Apex Industrial beat us to the punch and purchased the entire lot. We were then left with no alternative but to purchase the five locomotives from them. And so we did just that.
The next hurdle to overcome was finding suitable transport to bring our newly acquired locomotives home. This proved to be a challenge, since there weren't many suitable options and we had to take transport costs into consideration too. Fortunately, we weren't facing this problem alone as Apex Industrial also needed to find a suitable vessel to transport their own trains from Australia to Durban. We initially hoped that we could transport our newly purchased locomotives by rail, but due to inspection and haulage fees, we realised that this would not be a viable option. Instead, we settled on a 40km road haulage from the Forrestfield depot in Perth to the Port of Fremantle, and from Fremantle our cargo would then be shipped to Durban.
The loading date was set for December 2014 but the ship that was meant to transport our locomotives was delayed en route due to a storm off Brisbane. We were hoping that our locomotives' voyage would resume once the storm had abated, but since it was peak holiday season and abnormal loads were banned from being transported on Australian roads at that time, we had to wait for the new business year to commence. Eventually, loading was arranged for 6 January 2015. Thankfully, it was smooth sailing from there. Seven locomotives were secured on a ship called Fairlight, bound for Durban. Two weeks later on the 26 January, Fairlight docked in Durban and unloading began. The process was relatively uncomplicated, unlike our experience in Australia. Our six locomotives were held in a holding area ready to be fuelled and prepared for the journey home to Capital Park, Pretoria.
We have gained five working locomotives while one other is in the process of being repaired. We are very pleased with the outcome of our decision, and we can't wait to send them off on thrilling African journeys.