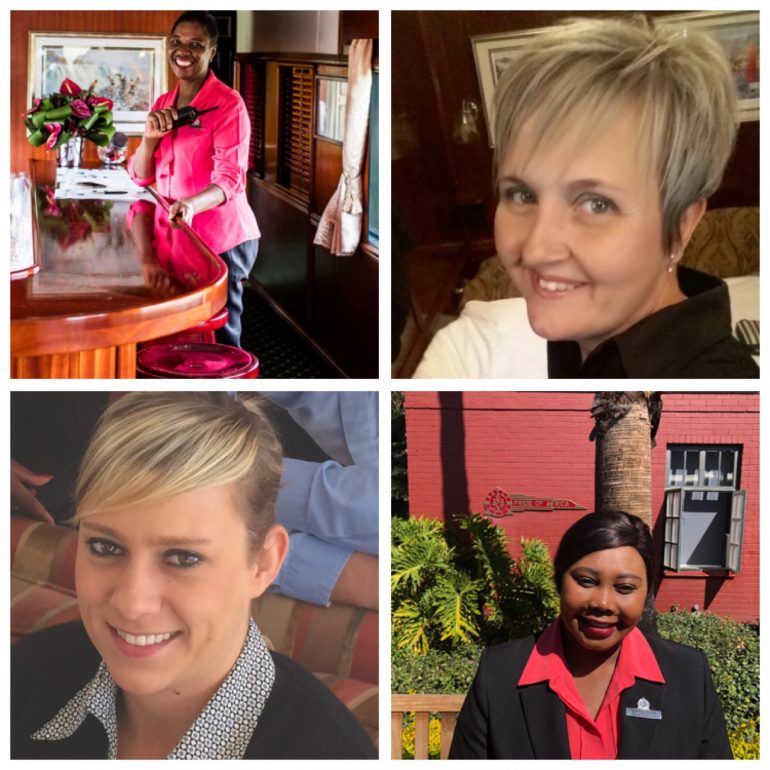 Celebrating our female train managers!
Written by Janine Avery from 5 Star Stories
With it being women's month in South Africa, we thought we would take some time out to celebrate some very special women here at Rovos Rail. We're really lucky to have not just one, but four, fabulous women in our contingent of staff working as train managers – a coveted job that comes with a great deal of responsibility.
A journey to the top
Their journeys to the pinnacle point of train manager all took a similar path. Each of these women joined our team as a rooming hostess. Over the years they worked their way up from cleaning, polishing and vacuuming rooms to working in the dining cars, behind the bar, in the admin department, to deputy manager and finally into their current role as train manager.
Starting at the bottom and working your way up is something that our owner and CEO, Rohan Vos, firmly believes in. "His philosophy is that you need to be able lead by example which means my teams need to see that I know how to scrub a loo, make a bed, unblock a shower head or get a generator working", says Renolda Motha, our most recently appointed female manager.
A hotel with moving parts
"It's a moving hotel with all these different parts," says train manager, Lucinda du Plessis. And a firm understanding of each of these parts whether it be electrical, mechanical, guest relations or managing staff is what makes for a good manager. "It's a challenge every trip. Train operations are complicated and can be tiring – I can work an entire journey with little to no sleep, especially if there are delays. You have to be on the phone all the time and stay one step ahead of all the players such as Transnet," says Lucinda.
On this, Daphne Mabala, our first female train manager agrees, "It can get tough out there as we can do nothing about a signal failure or a derailed train ahead of us so we just have to wait. It causes me stress as I like to run on time all the time!"
For Mart Marais who has been working as a train manager for over ten years, "the trains are like my children – they either run smoothly or they can be incredibly difficult!"
The fun side of the job
And while yes, it's a job, and evidently a tough one at that, it also comes with an up side. "I get to travel across our borders and experience countries like Zimbabwe, Botswana, Zambia and Tanzania and now Angola and the DRC too," says Mart, explaining that the train, "feels like my second home – I am so used to it that I can't sleep properly when I am not on board." It's a sentiment that's echoed by most of her colleagues. "I'm so used to it now that it can feel odd being at home. I struggle to sleep the first few nights because there is no movement," says Daphne.
And while cabin fever can set in on long trips, it is clear when chatting to each of these women that they really love what they do and the train teams with whom they work. "I like the comradely between the staff. We can have a lot of laughs and that's important on the longer journeys", says Mart.
"I enjoy our guests and my best is when people meet on board and become such good friends that they then all book another trip together. There are a few couples like that – they met on the train and now travel together every two years and always include a trip with us," says Renolda.
Perhaps Daphne sums it up best, "After all these years and what I have learned, I love trains and find them fascinating. Especially ours."
We couldn't agree more, and these women are just one, or four, of the reasons why women are as good at managing trains as their male counterparts, if not better!